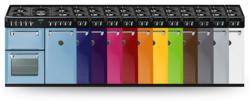 (PRWEB UK) 14 September 2012
The popular Colour Boutique scheme offered with select Stoves and Belling range cookers has proved an enormous hit with customers looking for a model with a little more personality and individuality. Introduced by manufacturer GDHA in 2011, Colour Boutique allows one to choose from a palette of twelve colours which can then be applied to any Stoves Richmond or Belling Classic range cooker.
Due to the more bespoke nature, the price of a Colour Boutique cooker is slightly higher than the equivalent standard Richmond or Classic model – the good news, however, is that the lead time for such a cooker has been reduced from around eight weeks to a more palatable four weeks.
View the Colour Boutique collections, and order online, at http://www.rangecookers.co.uk .