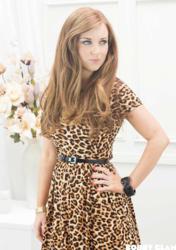 Sammy says: "We use real remy human hair for our extensions because we think it beats synthetic hair every time. Real remy human hair is the best of the best in the clip in world!"
(PRWEB) September 28, 2012
BobbyGlam reviews have been released by the team as they review their range of hair extensions to give clients an insight into what makes them unique.
The BobbyGlam hair extension range has been designed to give clients a variety of options with clip in hair extensions; the products found on the website are exclusive to BobbyGlam and will not be found anywhere else.
The company say that hair quality will be an important factor when looking for Bobbyglam reviews; Sammy from BobbyGlam shares information on the hair used to make BobbyGlam hair extensions.
Sammy says: "We use real remy human hair for our extensions because we think it beats synthetic hair every time. Real remy human hair is the best of the best in the clip in world!"
She continues: "Real remy human hair gives you more flexibility when styling your extensions compared to synthetic hair as you can heat style your extensions in with your own hair. Real remy hair also tends to blend better with your natural locks. Real remy human hair has a longer lifespan too, which is always good news!"
BobbyGlam hair extensions are cuticle correct so they are super smooth and tangle free. The extensions have a natural shiny finish compared to the unrealistic shine of synthetic hair extensions.
All BobbyGlam hair extensions are thick from top to bottom and they are trimmed for a natural-looking finish.
Clip in hair extensions from BobbyGlam are available in a range of thicknesses so clients have the option of choosing the best thickness for them to match to their own hair and the style they want to achieve. The full head sets are available in Double Weft full heads, Triple Weft full heads and the luxuriously thick Quad Weft full heads.
BobbyGlam reviews the clips on their hair extensions as they say they have lots of questions from clients about the clips that are used.
Sammy says: "The clips used on our extensions are super easy to wear. They're medium-sized clips with a micro rubber tube and they are pressure sensitive which makes them more comfortable to wear."
Sammy continues: "No one needs to even know that you're wearing extensions as the clips are super discrete. The clips on some of our smaller hair extension products, like the layer blending wefts, the clip in fringe, and the clip in highlight and blusher wefts, are even smaller and even more discreet."
BobbyGlam say that when looking for BobbyGlam reviews, clients often wonder whether these clip ins would be suitable for them; they say that BG hair extensions are ideal for adding thickness, volume, and length to lots of different hair types."
Sammy says: "If you have thin or fine hair these can be perfect for adding thickness and length for you and if you're lucky enough to have thick hair already then you can clip our extensions in for added length or a volume boost. It's so easy to completely transform your look with them."
BobbyGlam hair extensions are available in a range of shades and lengths from the online shop. Hair care products, hair tools, hair accessories, and vintage jewellery are also available from the BobbyGlam website.