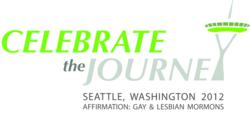 Palm Springs, CA (PRWEB) September 15, 2012
The Annual Affirmation: Gay and Lesbian Mormons Conference will happen in Seattle, Washington from Friday, October 19 – Sunday, October 21, 2012. The theme for the conference is "Celebrate the Journey!" This three-day conference will bring together Affirmation members and allies from around the world for friendship, learning, healing and support and to celebrate their journeys as Lesbian, Gay, Bisexual, and Transgendered (LGBT) Mormons.
This conference will feature a beautifully diverse range of voices and experiences during plenary sessions, workshops and the Sunday devotional. The preliminary conference program strikes a balance between social interaction, serious discussion, and sheer celebration.
The keynote speakers for the conference are:

Filmmaker Kendall Wilcox, creator of the "It Gets Better at Brigham Young University" YouTube clip that has impacted thousands of lives
John Dehlin, the founder of Mormon Stories, and
Bridey Jensen, who courageously helped organize a gay-straight alliance at Brigham Young University (BYU)
The preliminary workshop sessions for the conference include:

The Answer is Love: A More Excellent Way for LDS Families and Church Leaders: Robert Rees and local LDS church leaders
Identifying our Strengths and Blessings as LGBT Children of God, Overcoming Fear, and Celebrating and Sharing our Gifts to Bless Others
Working with our Straight Allies for Marriage Equality
Creating Conversations with Church Members to Build Bridges of Understanding: John Gustav-Wrathall, Kendall Wilcox
Celebrating our Stories: Marty Beaudet
Dating and Building Healthy and Happy Long-Term Gay Relationships
The Sunday devotional will feature the following speakers:

Tina Richerson, from New York, New York, and
Bishop Robert Rees, from Berkeley, California
The Affirmation choir will rehearse on Friday and Saturday and sing during the Sunday morning devotional.
The 2012 Affirmation conference will be a time to share, celebrate, and laugh. Please don't miss this chance to come to Seattle and celebrate your life journey with us. Information about registration for the conference can be found at http://www.seattle.affirmation.org
Additional information can be found at the conference website http://www.seattle.affirmation.org, its public Facebook event https://www.facebook.com/events/364760976928867/, or its Twitter feed at http://www.twitter.com/affirmationlds.
Affirmation is an all-volunteer organization supporting LGBT Mormons, their families, and allies by encouraging spirituality, providing information resources, and working for equality. The Affirmation website can be found at http://www.affirmation.org