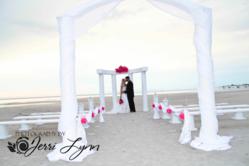 12/12/12 is the last opportunity to have a triple digit wedding day for the next 89 years.
Ft. Myers Beach, Florida (PRWEB) September 18, 2012
Brides- and grooms-to-be, worldwide, have their eyes turned to this auspices "triple-digit" date to tie the knot. It's the only time this phenomenon will occur in this century and Weddings in Paradise is inviting brides- and grooms-to-be to be a part of history!
Florida is a wonderful place to marry in December! The average temperature is 77 degrees—and ahhh… the beauty of the beach will take your breath away and that's why The Gulfview Manor Resort, Ft. Myers Beach, was chosen by Weddings in Paradise to host this momentous event! Although private, the resort has the largest beachfront in South Florida!
The day will be a grand celebration of love, with couples descending from all over the country and the world. Individual ceremonies will be hosted by Weddings In Paradise, with each couple having their own, personalized nuptials—and the ceremonies will recorded and live-streamed so that everyone can share in this once-in-a-lifetime happening!
Great food, entertainment, horse-and-carriage rides, drawings to win hotel accommodations, "day at the spa," and all kinds of wonderful prizes will be offered to our lucky couples as a part of the festivities!
The World Wedding Event will benefit the participants, introduce out-of-towners to our stunning beaches, and stimulate the local economy by helping so many people in South Florida who have been devastated by our weakened economy. Weddings In Paradise will hire unemployed veterans and other locals to bring this event to fruition.
Those contemplating marriage should think about becoming a participant in this momentous event. We invite active duty military to participate, too. Your wedding is on us! Wedding planners, bring your clients! Make them a part of history and maybe break a world record or two! But at the same time, we want all our "World Wedding Event" couples to have the beautiful wedding of their dreams!
For information: http://www.swflbeachweddings.com: 12/12/12. For tickets and/or to register for the event:
http://www.swflbeachweddings.ticketleap.com/121212-world-record-wedding Vendors and/or merchants can also register to participate in the World Wedding Event. If you have questions, please email: lisa1(at)swflbeachweddings(dot)com