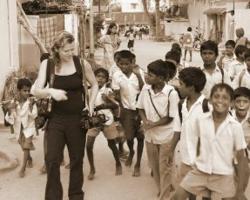 Tribal communities think about the collective whole, not just the individual, and they all have such big love for each other.
Waikiki, Hawaii (PRWEB) September 17, 2012
Maui'd Forever is one of Hawaii's few full service, all-Hawaiian Islands wedding planner and coordinator. Founded in 2003 by entrepreneur Mark Steffan, the company operates on the Hawaiian Islands of Oahu, Maui, Kauai and the Big Island of Hawaii. They use over 150 different wedding vendors and still find the need to add additional members to their team.
They are happy to announce the availability of a renowned film artist to produce wedding videos in Hawaii and Santa Barbara California, Karina Duffy. Duffy's career in the entertainment industry began at the tender age of sixteen, when she got a job working at a state-of-the-art recording studio in Manchester, England. Soon she was running her own branch of the studio, working with well-known bands like Oasis and KC & The Sunshine Band. She says she can't recall when her passion for film started because she's been filming with her own video camera since she was a child. "Behind the camera, that's where I'm most comfortable, most at home," she coos with her British accent.
She went on to attend film school and eventually landed a high profile job in Los Angeles, raising money for corporate film companies. However, living the quintessential Malibu lifestyle with expensive cars and homes left her desperately hungry for something she couldn't quite pinpoint. Until her experience with the indigenous Maoris showed her what she and the Western world are missing—connection.
Armed with her new-found purpose, Duffy set off around the world, filming over twenty indigenous communities in Africa, India, Australia, South America and the South Pacific islands. She observed all manner of human debasement, poverty, disease and hunger, but these third-world tribes also seemed happier than most Westerners. "They didn't have the same social issues, such as homelessness and depression," she says. "Tribal communities think about the collective whole, not just the individual, and they all have such big love for each other."
To take action against the practical problems facing tribes around the globe, such as lack of clean water and disease, Duffy created Tahi Global. This non-profit organization will be partially funded by proceeds from the film. Duffy explains, "I want people to feel like they can do something about problems (the tribes) face, and by purchasing tickets at the cinema, they will know that a percentage goes directly to helping the faces they see in the film."
To help finance the film and her lifestyle she has agreed to work for the wedding planning companies Maui'd Forever and Hawaiian Style Weddings. "Tahi" is now in post-production status, teetering on completion once funding goals are met. Riding the wave of the American economic crisis, Duffy had to sell all of her properties and assets to invest in "Tahi."
Karina tells us in her interview to "get the word out that a movie quality video of one's wedding is now available at a reasonable cost. Please have your clients book me to help put this important film out there".
Her availability in Hawaii goes through October then she will be back in California for any weddings in that area.