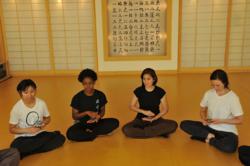 ...innovative new internet TV station will soon feature Dahn Yoga basics videos that cover the core energy principles and practices from Dahn Yoga classes, available nationwide at local Dahn Yoga centers
Sedona, Arizona (PRWEB) September 17, 2012
Since earlier this year, Dahn Yoga classes integrate LifeParticleTV.com videos and audio presentations. Yoga enthusiasts can now have a unique audio-visual experience that combines guided meditation with yoga poses in a down-to-earth setting. LifeParticle TV and Dahn Yoga share the same founding principles in Tao. The innovative new Internet TV station will soon feature basic Dahn Yoga videos that cover the core energy principles and practices from Dahn Yoga classes, available nationwide at local Dahn Yoga studios. This is the first time these unique teachings will be made available in a class-style format on the Internet.
LifeParticleTV provides enriching live broadcasting and video on demand with health and well-being topics such as simple guided meditation, mindful living tips, news and updates anyone can use anytime, anywhere.
This innovative new Internet TV station aims to share the power and possibilities of meditation and 'LifeParticles,' as conceptualized by visionary, Ilchi Lee, with the world. LifeParticles can be considered the building blocks of all life and with them one has the potential to create anything. The site is designed to help individuals and groups transform their lives and reach their goals through the power of meditation. The shows on this site can completely change how a person meditates and the results they get from it. Focusing on various aspects of meditation, LifeParticleTV is for beginners and experienced meditators alike.
Dahn Yoga is a mind-body practice that combines the ancient wisdom of Ki energy training with modern techniques to maximize the brain's functioning. It is rooted in the rich history of an ancient Asian mind-body practice, Sun Do, and in the wisdom of the Chun Bu Kyung, a 9000 year old text teaching truths about and through Ki energy. From a modern perspective, Sun Do could be considered a way of healthful living that used types of yoga, tai chi, meditation, and martial arts for training the body and mind.