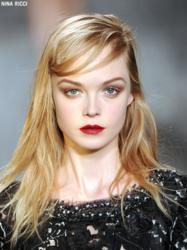 Makeup trends seen on the runways during New York Fashion Week 2012.
Miami, FL (PRWEB) September 15, 2012
TheBeautyPlace.com welcomes Fall 2012 by obtaining the best beauty products and offering them to client's at affordable prices. The beauty consultants of the online company feature makeup trends seen on the runways in collections by Nina Ricci, Burberry, Michael Kors, Stella McCartney, and Vera Wang.
The beauty consultants stated bright pops of color in accessories are still on-trend. For Stella McCartney, models where wearing bright cat eyeliner in blue. The beauty consultants state they prefer the smudged look TIGI Cosmetics Liquid Eyeliner – Blue gives. They state liquid eyeliner forms lines that are harsher, and most of their clients want to wear makeup that is edgy for a happy hour, but still appropriate for the office.
No dark eyeliner or dark black shades where seen at Burberry to create the smoky eye look. Shades of brown, taupe, and nudes were featured. The beauty consultants favored the neutral shades, but advised their clients on a little pop of pink. For this, they explain to clients TIGI Cosmetics High Density Quad Eyeshadow – Lush would be a great choice. It features 4 shades in brown, shimmery azure, a pinkish nude, and a berry shade. First, clients are to trace along the inner lash with the darkest shade. Then use a blending brush to diffuse the pinkish nude from the lashes to the crease.
Nina Ricci turned traditional red lipstick dark and romantic. TIGI Cosmetics Decadent Lipstick – Fierce applied right from the tube will give the most dramatic effect. Applying the lipstick with the TIGI Cosmetics Brush – Lip will let clients achieve the desired shade red. The decadent lipstick is a best-seller because it moisturizes lips and provides antioxidants to keep skin healthy.
The model's for Vera Wang sported medium thick brows, and completely natural makeup. Rebecca, lead beauty consultant, of TheBeautyPlace.com stated "brows look best groomed and when they frame a face correctly, and a good brow pencil helps". Rebecca stated TIGI Cosmetics Brow Defining Pencil – Brunette is a 2-in-1 brow definer and groomer. It contains antioxidants vitamin C and E to keep brows healthy and includes a built-in blending brush helping to create a smooth and natural look.
Michael Kors Fall 2012 featured "a wardrobe for a day at the slopes", stated Rebecca. Most of the model's makeup featured rosy cheeks which were achieved with crème blushes, which the beauty consultant's state is easier to build up and diffuse. TIGI Cosmetics Glow Blush is a favorite of many clients. Clients state it gives them a natural glow, and its rich hue goes on sheer.
TheBeautyPlace.com is a leading online retailer of professional beauty products for hair and skin care needs. Find some of the industry's top beauty brands at extremely competitive prices. Hair products offered by TheBeautyPlace.com range from professional flat irons to products for hair loss. Quality skin care products address skin concerns from anti-aging to acne-prone skin.
Follow TheBeautyPlace.com
On Twitter: @TheBeautyPlace
On Facebook: Facebook.com/pages/TheBeautyPlacecom/125435188536?ref=ts
TheBeautyPlace.com Blog: http://www.blog.thebeautyplace.com