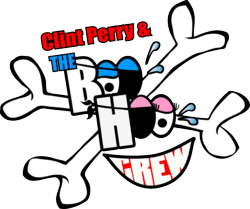 Oh my gosh, this CD had me smiling from the first chorus on the first song Pirate Booty!! I LOVE this CD!!! It's fun! It's funny!! It's sing-a-long-able! Kids and adults will get a great kick out Clint Perry and the Boo Hoo crew's Shake your Pirate Booty!
Carlsbad CA (PRWEB) September 16, 2012
San Diego based children's rock group Clint Perry and the Boo Hoo Crew are getting riled up for a six day event taking place this September 17th-22th, which they've deemed "Pirate Week" in celebration of their new release "Shake Your Pirate Booty." The concerts will be 7 shows in 6 days, taking place in 7 different San Diego venues, and will celebrate the Crew's sophomore release, set to drop September 17th.
Pirate Brands, makers of the ever-popular snack treat "Pirate's Booty" is sponsoring the release, giving away 1000 .5oz bags of their delicious and wholesome snacks at the concerts throughout the week.
"It means a step up, or even two, in the music quality put out by us on the second release," said Clint Perry, after being asked what the release meant to him. "I am very proud and excited for this disc to be released." Their producer, veteran, James Coffey said this, "I've produced dozens of projects over 15 years and honestly this is going to be one of the best...we've made something amazing!"
The sponsorship they acquired from Pirate Brands stems from their biggest hit, "Pirate Booty", which is referred to as the 'crowd favorite' by Clint, and anyone that hears it. However, Clint Perry is sure that the rest of the album will be just as successful: "[…] regardless of [Pirate Booty] the whole album came together to equal it. We've got a holiday song, a story song about a Pirate King, even a song about getting sea sick, in Landlubber."
The release party will include six concerts by the band and as always, there is assured be many laughs and many smiles.
Sea Life, AZ, Kansas City and Minnesota are also getting in on Pirate Week. They'll be featuring "Shake Your Pirate Booty" all week at their locations. Sea Life, AZ will even be playing the video for "Everybody's Pirates" at their special facebook fans only Pirate Party on September 21st and giving out Pirate's Booty and "Shake Your Pirate Booty" to all the attendees.
Clint Perry and the Boo Hoo Crew also held a CD Release party with San Diego's newest attraction, Pirate Ship Adventures, on September 8th.
On September 17th, the EP will be available on iTunes, Amazon, Google Music and various local record stores in the San Diego area.