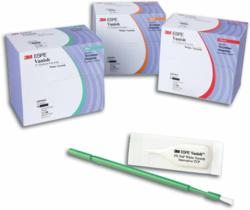 3M is a fine company, and this new Vanish treatment has been a huge hit with our patients. We are delighted to offer Vanish to our new and returning patients
Marietta, GA (PRWEB) September 18, 2012
Verde Pointe Dental Associates of Marietta, GA now offers its patients Vanish™, the new 5% Sodium Fluoride White Varnish with Tri-Calcium Phospate (TCP) from 3M ESPE. The Vanish treatment is an optional add-on service that patients can request during their visit. It is available at a reasonable price and is covered by some insurance companies.
Vanish can replace traditional fluoride treatments and has been clinically proven to deliver better results than its competitors. Vanish can flow across and between teeth, which means it reaches more tooth surfaces and releases more fluoride compared to competitive varnish tested. In addition to releasing fluoride, Vanish also releases calcium phosphate and a protective coating to tooth surfaces. It is easy to apply and comes in Cherry, Melon, or Mint flavors, which makes it more appealing to kids and adults alike. Vanish is the #1-selling fluoride in the United States, according to its publicity materials.
"Our dental office is committed to offering our patients the highest quality service out there," said Dr. Kirk Kimmerling DDS, "and that includes keeping up to date with the newest services and products available. 3M is a fine company, and this new Vanish treatment has been a huge hit with our patients. We are delighted to offer Vanish to our new and returning patients."
Verde Pointe Dental Associates continues to attract a wide and devoted patient base. It is one of the premiere dental offices in the state of Georgia and is known for its energetic and committed dental professionals as well as its friendly and knowledgeable front office staff. Verde Pointe offers cosmetic dentistry services, veneers, teeth whitening, and a host of other dental services, and is always eager to incorporate the latest products and services, such as Vanish, into its dental practices.
For more information on Verde Pointe Dental Associates Click Marietta Dentist
For more information on Vanish and 3M ESPE, visit http://www.3MESPE.com.
Kirk Kimmerling, DDS, Alex Krempa, DMD and Suzanna Aguilera, DMD are cosmetic dentists Marietta, GA that are literally paving the way for the future of dentistry. The office is technologically sophisticated in not only equipment and procedures, but also developing dental materials via Kimmerling Holdings Group, LLC and fiteBac SkinCare, LLC, Dr. Kimmerling's biotechnology firms. The office maintains 13 operatories, each of which is equipped with a display monitor on which digital x-rays and intra-oral pictures can be examined, and patient education videos can be viewed. The office also employs highly advanced technologies, including: (1) Logicon, a program that can digitally measure the extent of tooth decay, which allows detection of 20% more cavities and helps prevent misdiagnosis; (2) "Collimators," a conduction of x-ray tube heads that decrease radiation exposure to the patients and staff by 5-fold; and (3) iTero, an advanced restoration impression system and digital scanner that produces more accurate restorations than traditional methods. The overall well-being of each patient can also be improved by adding a DNA salivary test, which allows the office professionals to better determine a patient's specific risk of periodontal disease as well as certain types of oral cancer. The office is the first to use fiteBac SkinCare Germicidal Hand Softening Gel, an advanced hand sanitizer without the harshness to skin from traditional alcohol-based hand sanitizers. Drs. Kimmerling, Krempa and Aguilera invite new patients to meet their exceptional staff and experience and benefit from state of the art dental care.