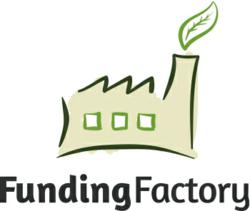 "We're so pleased to officially welcome Green School Project participants to our family and think they'll settle right in thanks to our new pricing structure," said Sean Michaels, co-president of Environmental Reclamation Services
Erie, PA (PRWEB) September 17, 2012
Green School Project participants are now part of FundingFactory, the largest fundraising by recycling program in the United States. Participants can take advantage of increased benefits, including shipping bonuses, monthly contests, fundraising coaches, and higher payments for their recyclables:

$1 minimum for any cell phone
$1 minimum for any qualifying toner cartridge
10 cents minimum for any non-qualifying inkjet cartridge or small electronic (MP3 players, GPS devices, digital cameras and laptops).
"We're so pleased to officially welcome Green School Project participants to our family and think they'll settle right in thanks to our new pricing structure," said Sean Michaels, co-president of Environmental Reclamation Services, parent organization of FundingFactory.
Environmental Reclamation Services has operated Green School Project since acquiring the program in 2007. ERS chose to merge Green School Project with FundingFactory to bring the programs' two eco-conscious communities together to share best practices and provide greater fundraising opportunities to all participants.
"At ERS, our business is fundraising by recycling. We've been excelling at it since 1997, helping 50,000 schools and nonprofits raise $31 million and keep 30 million pounds of waste out of landfills," Michaels said. "Between our improved pricing structure and enhanced online tools, including a goal-setting interface, sustainability reporting, and customizable public website, I believe this may be many participants' best fundraising year yet."
The FundingFactory program is free, and enables schools and nonprofit organizations to exchange electronic waste for cash or points redeemable for new technology and other products.
For more information or to register for FundingFactory's fundraising by recycling program, visit FundingFactory.com.
About FundingFactory
Since its inception in 1997, FundingFactory has provided more than $31 million in funding to more than 50,000 schools and nonprofit organizations across the U.S., and saved 30 million pounds of waste from landfills. FundingFactory is a free recycling fundraiser for schools, nonprofits, and charities. Participating organizations can earn points redeemable for cash or products by recycling used inkjet and toner cartridges, cell phones, and small electronics collected from their communities and supporters. FundingFactory is a program of Environmental Reclamation Services, LLC, a Clover Technologies Group company. Headquartered in Erie, Pa., ERS is an R2-certified, ISO 14001-2004-certified, Zero Landfill Initiative company with more than 99 percent of its incoming material having been reused or recycled in 2011.