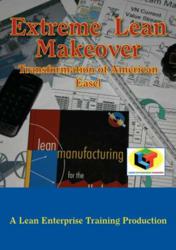 "It was a little like performing major surgury while the patient was still walking around." Gary Conner, President Lean Enterprise Training
Las Vegas, NV (PRWEB) September 17, 2012
Lean Enterprise Training, an internationally recognized consulting company is proud to announce the release of a new DVD chronicling the transformation of a Salem, Oregon family owned manufacturing business using the Lean Manufacturing techniques developed and perfected at companies like Toyota.
The Shingo Prize is considered the Nobel Prize among those in the manufacturing community, President of Lean Enterprise Training, Mr. Conner received this award in 2002 for his text 'Lean Manufacturing for the Small Shop', published by the Society of Manufacturing Engineers.
'Extreme Lean Makeover' is a 90 minute video record of a week-long kaizen event (kaizen is a Japanese term meaning continuous improvement) at American Easel, a US manufacturer of artist easels and artist supplies.
A 'dream team' of fifteen individuals were invited from all over the United States to participate in transforming American Easel in just a five day period. This documentary shows the significant struggle faced by the kaizen team because a major backlog in orders necessitated making changes while the manufacturing process was still in motion, according to Conner, "It was a little like performing major surgery on someone while they are walking around."
'Extreme Lean Makeover' demonstrates the amazing results that can be made in just a few days. It also shows the stress, fear and exhilaration of people involved and affected by the changes. Among palpable moments of humor, fear, joy and satisfaction; significant changes made at this company were not just physical in nature, but include impressive, positive financial results such as 30% capacity (sales) increases and 18% profitability improvements (in just the first six months since the project).
This hour and a half long video includes not just the application of business improvement techniques, but shows the real time effect of change on people. None of this video was scripted, staged or reenacted. What you see is the actual video shot in real time.
This video will certainly encourage and enthuse other work teams. While entertaining, the primary purpose of the documentary is to educate US companies about the need for positive changes in the way we perceive and execute our jobs. Conner explains: "Foreign competitors examine and challenge their processes every day. US companies must adopt a completely new mindset if we hope to compete in a changing global economy."
While this video chronicle focuses on a manufacturing environment, these techniques apply equally to any service or administrative process.
While available through Amazon.com, the first public retail sales of this DVD will be at the FABTECH (Manufacturing Machine Tool) Trade Show in Las Vegas, Nevada in November 2012.
Gary Conner will present at the FABTECH show along with being available at the Lean Enterprise Training Booth (booth C-8210)