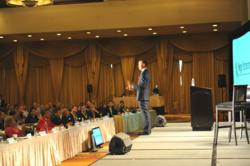 Los Angeles (PRWEB) September 17, 2012
The JT Foxx organization is proud to announce a special two day event devoted to helping entrepreneurs and small business owners explode their business potential.
This incredible event, taking place in Los Angeles on Friday, September 20 and Saturday, September 21, will feature two of the biggest names in branding - JT Foxx, serial entrepreneur and one of the top wealth coaches in the world; and Bruce Buffer, the Official Voice of the Octagon who grew the UFC brand into a $450 million dollar business.
The event will be held at the Embassy Suites Los Angeles from 9am-6pm on Friday, September 20 and Saturday, September 21. This special event is part of the ongoing Mini-Mega Partnering series, presented by JT Foxx, taking place throughout the U.S. and Canada this fall.
About Mini-Mega Partnering
Mini-Mega Partnering is the baby brother of Mega Partnering. Mega Partnering is the World's #1 Wealth Networking and Business Conference.
The vision behind Mini-Mega Partnering is to expose attendees to successful local entrepreneurs, investors and others looking to network, start, grow or explode an existing business. Tickets to all Mini-Mega partnering events are complimentary.