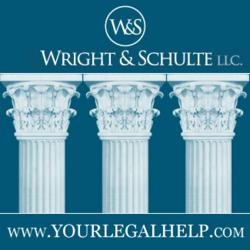 Wright & Schulte LLC, is dedicated to helping those injured by Skechers Shape-Ups receive the compensation they deserve. Call 800-399-0795 or visit www.yourlegalhelp.com today for a FREE consultation!
Vandalia, OH (PRWEB) September 18, 2012
Wright & Schulte LLC, a leading national injury and Ohio personal injury law firm has filed another personal injury lawsuit in the Skechers Toning Shoe Product Liability Litigation (MDL 2308) now underway in U.S. District Court, Western District of Kentucky. The new Skechers Shape-Ups lawsuit alleges that an Ohio woman was forced to undergo surgery for a herniated disc, allegedly due to Skechers Shape Ups toning shoes. The Skechers Shape-Ups lawsuit, which was filed on July 26, 2012, names Skechers USA Inc., Skechers USA Inc., II, and Skechers Fitness Group as Defendants. (Case 3:12-cv-00439-TBR).
Wright & Schulte LLC is a leading national law firm and continues to offer free lawsuit evaluations to victims of alleged Skechers Shape-Ups injuries across the United States. If you or a loved one suffered head trauma, broken bones, dislocations, tendinitis or any serious injury that may have been caused by Skechers Shape-Ups, please visit yourlegalhelp.com, or call 1-800-399-0795 to talk to a Skechers Shape-Ups lawyer to learn more about your options for legal recourse.
According to the complaint listed above (Case 3:12-cv-00439-TBR), the Plaintiff saw many television and print advertisements touting the benefits of Skechers Shape-Up toning shoes. Relying on those ads, she purchased a pair of Skechers Shape-Ups on July 27, 2010, and wore the toning shoes for short periods of time as instructed for approximately five days. On August 1, the Plaintiff began experiencing severe pain in her right thigh, and was ultimately diagnosed with a herniated disc as stated in the complaint. She was forced to undergo surgery to repair the herniated disc, and later, physical therapy. The lawsuit alleges the Plaintiff suffered harm, damages and economic loss and will continue to suffer such harm as a direct and proximate result of her use of Skechers Shape-Ups.
In the complaint the Plaintiff claims she was lulled into purchasing a dangerous product that produced a substantial risk of causing chronic injuries and inducing falls by advertising for Skechers Shape-Ups. According to the complaint, Skechers toning shoes are intentionally designed to create instability and to change gait mechanics, even though it is well established in the medical literature that doing so can and does cause chronic injuries. The lawsuit alleges that the Defendants knew or should have known of the risks associated with Skechers toning shoes, and failed to provide an adequate warning to consumers. It further alleges that the Defendants continue to market and promote Skechers Shape-Ups without performing any safety testing, despite a body of literature and numerous complaints about chronic and traumatic injuries.
Dozens of similar lawsuits have been filed by consumers from around the country who suffered serious injuries, allegedly due to Skechers toning shoes. Richard W. Schulte, a partner with Wright & Schulte LLC, is a member of the Plaintiffs' Steering Committee for the Skechers toning shoes litigation.
About Wright & Schulte LLC
Wright & Schulte LLC, a leading personal injury firm, is dedicated to the belief that America's legal system should work for the people. Every day, the attorneys of Wright & Schulte LLC stand up for the rights of people who have been injured or wronged, and fight tirelessly to ensure that even the world's most powerful corporations take responsibility for their actions. If you're looking for a law firm that will guarantee the aggressive and personal representation you deserve, please do not hesitate to contact Wright & Schulte LLC today. Free case evaluations are available through yourlegalhelp.com, or call 1-800-399-0795.
Contact:
Wright & Schulte LLC
812 East National Road
Vandalia, Ohio 45377
1-800-399-0795
http://www.yourlegalhelp.com