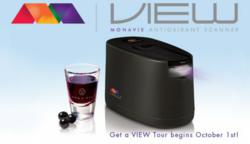 Salt Lake City, UT (PRWEB) September 25, 2012
MonaVie, a global leader in premium nutrition products made from the rarest ingredients in the world, is set to kick off its "Get a VIEW" city tour—featuring the new MonaVie VIEW Antioxidant Scanner—in October, with five stops in Canada and many stops throughout the United States.
MonaVie VIEW Antioxidant Scanner ("VIEW") is a device that allows you to get a view of antioxidant levels in your body, and is designed to further support MonaVie's initiative to prove the value of its products. "With this tool in hand, MonaVie distributors will be able to measure the level of antioxidants within the body," says Jeff Graham, MonaVie executive vice president of global product development. "Then, in conjunction with MonaVie VIEW certified products, distributors can work with clients to enhance their antioxidant levels and prove the value of MonaVie products through this quantitative measuring device."
Each city tour meeting will be hosted by a MonaVie distributor with special guests from MonaVie corporate. Join us in one of the following locations to learn more about VIEW:
City Meetings*
October
10/1—Vancouver, British Columbia
10/2—Edmonton, Alberta
10/3—Calgary, Alberta
10/4—London, Ontario
10/8—Cleveland, Ohio
10/9—Minneapolis, Minnesota
10/10—Des Moines, Iowa
10/11—Holt, Michigan
10/15—Hartford, Connecticut
10/16—Washington, D.C.
10/17—Pittsburgh, Pennsylvania
10/18—Hasbrouck Heights, New Jersey
10/19—Chicago, Illinois
10/22—Tulsa, Oklahoma
10/23—Portland, Oregon
10/24—Coeur D' Alene, Idaho
10/25—Fargo, North Dakota
November
11/5—Naples, Florida
11/6—West Palm Beach, Florida
11/7—Tampa, Florida
11/8—Orlando, Florida
11/12—Hobbs, New Mexico
11/13—Houston, Texas
11/14—Austin, Texas
11/15—Dallas, Texas
11/26—Phoenix, Arizona
11/27—San Diego, California
11/28—Anaheim, California
11/29—San Francisco, California
December
12/3—Hasbrouck Heights, New Jersey
12/4—Murfreesboro, Tennessee
12/5—Boise, Idaho
12/6—Greenville, South Carolina
January
1/7—Vancouver, British Columbia
1/8—Anaheim, California
1/10—Orlando, Florida
1/15—TBA, New Jersey

Dates and locations are subject to change. See the official VIEW city tour page for the most up-to-date information.