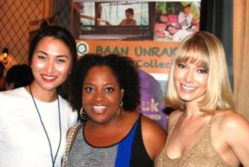 We are developing the Baan Unrak weaving center and clothing line so these mothers and their children can flourish in health and joy!
New York, NY (PRWEB) September 16, 2012
The One World Foundation (http://www.oneworld-foundation.org) debut was fondly received at New York Fashion Week amongst fashion industry personalities and diverse celebrities.
A charitable organization dedicated to providing education and opportunity for children throughout the developing world, has partnered with the Baan Unrak Children's Village of Thailand.
During this month, One World Foundation has initiated a bi-coastal launch to unveil their mission in New York and Los Angeles.
"Our first initiative to launch during Fashion Week was organically related to the manufacturing of the Baan Unrak Conscious Collection." Said Stephanie Drapeau, Co-Founder of One World Foundation. "We are extremely grateful for the response and support within the fashion and entertainment community, for this reason we are now getting ready for our participation at the GBK celebrity/charity suites in Los Angeles on September 21st and 22nd during the Emmy Awards Festivities."
At the New York event the following personalities and entertainers graciously agreed to be a supporter of the One World Foundation and to be listed as a part of their circle of friends; Lisa Searl, Glamo, David Alan, Basche, Elle McLemore, India de Beaufort, Paul Sparks, Jennifer Ashton, Olivia Culpo (Miss USA), Leila Lopes (Miss Universe), Neil Haskell, Jana Kramer, Carla Facciolo, Daymond John, Erin Cummings, Toni Trucks, Gloria Govan, Erin Wilhelmi, Jess Zaino, Navid Neganhan and Erica Mena.
Baan Unrak, a "children's home" and safe haven, began more than two decades ago when founder Did Ananda Devamala found and began to care for an abandoned child in the jungle bordering Myanmar and Thailand. Today Baan Unrak provides shelter, food, education, and a warm and loving home to nearly 150 children. In a region where children and teenagers are at great risk for abuse and victimization through human trafficking, Baan Unrak provides not only safety, but opportunity through education as well.
Its greatest challenge is funding, and to address this need, Baan Unrak Children's Village has established a weaving center to create a line of high quality clothing with both a fashionable flair and a heart: the Baan Unrak Conscious Collection. The One World Foundation sponsored a contest among US fashion schools to redesign the traditional Thai fisherman's pants, and the outcome are the SŪK pants, a unique and versatile pair of yoga style pants that fit a wide range of lifestyles.
The long-term goal of the One World Foundation's partnership with the Baan Unrak weaving center is to make it financially independent and profitable. In addition to helping develop the Baan Unrak Conscious Collection product line, One World Foundation is seeking $70,000 to provide essential improvements to the weaving center's infrastructure, including housing and storage facilities for equipment and raw materials. In doing so, One World Foundation hopes to not only assist Baan Unrak itself in becoming independent, but also provide jobs for local mothers, thus helping create an environment that protects family stability. With these goals in mind, One World Foundation hopes to help Baan Unrak become a vital, financially independent center for the care and education of at-risk children –the world's greatest hope for the future.
About the One World Foundation:
One World Foundation was founded by Christian and Stephanie Drapeau. Christian, a research scientist with a background in stem-cell research, and his wife Stephanie, who is a successful actor with over 20 films to her credit, founded One World Foundation in 2007, whose mission "is to foster harmony among people of all classes . . . and empower children to become active citizens of the world."