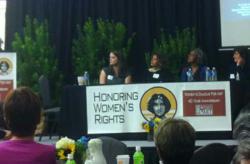 Extremism has become main-stream; there have always been extreme right and left sides. Now we have main-stream media and our politicians validating these extremist views – Karen Teegarden
Salinas, CA (PRWEB) September 16, 2012
On September 8th a grass-roots WCA project bought nationally recognized women's rights advocates from all over the country to inform and discuss current and past political and education strategies. The most unique aspect of this conference is a pairing of a juried art show called "Echoing Visual Voices Together" and selected short films from Woman Make Movies. If you missed the conference, you can still see the movies and the art exhibition through January 7, 2013.
The morning session started with Monterey County Supervisor, Jane Parker giving a proclamation and welcoming the Pacific Regional WCA. Anchored in the local setting, the conference attendees looked back through time listening to author Louise Bernikow deliver her talk, "The Shoulders We Stand On: Women as Agents of Change". Bernikow reflected on how women have returned to the same issues many times. She jokingly suggested the conference would be better named, Defending Women's Rights.
Later, the day was marked by current event news-makers, such as women's health advocate Sandra Fluke, Unite Women founder and CEO Karen Teegarden, and ERA Education Project founder and Executive Director Kamala Lopez. The attendees and speakers asked questions of each speaker during and after their talks.
Sandra Fluke spoke of the national election, citing legislation Ryan and Romney back and defining a historical context of Jack Wilkie's mutually supportive association with Romney. Wilkie is the doctor, who claims rape victims rarely get pregnant because the "physical trauma" of rape has a way of preventing pregnancy. This audience chuckled at hearing the statement, but Fluke was not kidding. She went on to say her problem was that it is on record that Romney actively supports Wilkie but denies he believes Wilkie when talking to an audience like this one or to the main-stream press.
At the end of the day, a unique "pop-up session" brought each audience member to the floor, announcing what they were going to bring back to their day-to-day lives. Mostly people reflected points made in the last hour, but at the following day's farewell brunch, many participants said they were moved by Malissa Feruzzi Shriver's request to buy California Arts plates. The Arts Plate is the primary source of California's public arts funding.
Shriver cited studies how art education can improve California children's futures. Shriver said, "Today, California has the highest drop-out rates in the nation next to Mississippi and Texas … on top of that, California has the highest incarceration rate in the world." She quoted studies that show art education reduces drop-out rates and increases attendance, math scores, literacy scores and more. "It is a core subject deemed by the federal and state department of education yet it is not being taught," she continued. She formed a task force to unwrap that mystery.
Shriver's talk rang true to the attendees and speakers on many levels, not just public schooling. The Honoring Women's Rights conference and exhibition gave a perfect backdrop for Shriver's point. Sharing information by speaking along with visual art installations demonstrates what this event was all about.
__________________________________________________
Video posted at http://bit.ly/Fluke_HWR
http://www.nationalwca.org; Women's Caucus for Art creates community through art, education, and social activism.
http://www.steinbeck.org; National Steinbeck Center inspires people to make a positive difference in our world, 1 Main Street, Salinas, Monterey County, CA