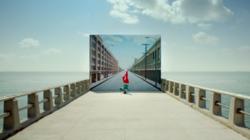 Working with Nicole is like having the Jimmy Iovine of advertising in the room with you. She knows what everyone needs and is on top of her game from start to finish.
Austin, TX (PRWEB) September 17, 2012
Over the course of two decades in music and advertising, Nicole Dionne has emerged as the definitive voice in creating and producing music that SOUNDS licensed - but is crafted just for the brand and campaign. She has a unique gift for spotting musical artists that are about to break out and pairing them with brands and commercials, guiding the writing/producing process in a way that is a perfect fit all-around. The result is evocative original music that stands on its own while being consistent with brand messaging and scored to picture. This ability, and her successful collaborations with such high-profile clients as FX (Sons of Anarchy and American Horror Story), Starz, TNT, AT&T, Firestone, Lexus, Guinness, American Express, Nike, and Gatorade, made Dionne and PrimalScream Music (Los Angeles & Austin) the ideal candidate to carry the musical torch on Fruit of the Loom's "Move to Comfort" campaign. What Stuart Elliott of The New York Times rightly described as an "ambitious makeover" spanning 9 spots (including two tracks for the Hispanic market), "Move to Comfort" launched during the opening ceremonies broadcast of the 2012 Summer Olympics on NBC and continued to roll out through late August. All spots are airing now and appear on Fruit.com.
Fruit of the Loom and ad agency The Richards Group put their faith in Dionne and her knack for finding artists who have what it takes not only to deliver original songs for a national campaign, but to receive the attention of millions of listeners (including promoting the bands on Fruit.com and offering free downloads of the songs). Ultimately, "Move to Comfort" would showcase and be inspired by PrimalScream in concert with the talents of Mindy Gledhill, Gram Rabbit, Annie Automatic, Mako and Whisper City.
"Beyond making great music, these collaborations fulfill the goals of the client and agency, merge with the visuals and dialogue to convey a corporate message, and establish positive brand awareness - a visceral connection with viewers - via association with new music," says Dionne, whose offices in LA and Austin plant her firmly in the music biz.
Dionne explains that her business model is rare for a reason: "Having a deep appreciation of the ad and music worlds allows me to work smoothly with bands and artists, keeping them motivated and aligned with the client's goals for their image and campaign message." The result is that Dionne's clients get the sound of the band, composer, or recording artist backed up by PrimalScream's process and production value.
For Fruit of the Loom's campaign - which, with no dialogue, relied solely on the marriage of music and picture - PrimalScream took a distinctive approach to each collaboration. Working with Annie Automatic, the team brought an alternative rock sound to the mix, Mako added electronic dance, Whisper City's two scores incorporated hip-hop, hard-rock, and industrial influences into its electronic sound, while Gram Rabbit offered a combination of psychedelic rock, desert-country twang, and electronic beats. A more subtle approach was adopted by Mindy Gledhill, whose ethereal vocals created a dream-like, otherworldly mood. The tracks - originally crafted as :30's and one :60 - were then expanded into full-length recordings made available for download on the Internet via Fruit.com.
With its eclectic blend of styles and inventive use of imagery and atmosphere (the campaign was directed by Nez of Furlined/LA), the "Move to Comfort" campaign attests to the creative intuition of Nicole Dionne and PrimalScream and their ability to recognize and harness musical talent. The project serves as a fascinating example of the ways in which music and marketing can be creatively wedded to produce striking and original results.
In response to the massive Fruit of the Loom rebrand campaign, Dionne notes that the bands have already experienced increased attention across the social media spectrum, via the corporate site, Facebook, Twitter, and their own sites. "Songs are personal," she observes. "They resonate with people in a way that's sustainable, and a campaign like this offers something to the bands and the brand they couldn't possibly attain any other way."
"What's really cool about doing this project now as opposed to even a few years ago is social media, the ability for people to find this music after seeing it on TV," adds Gledhill, who is honored by the popular YouTube covers and lyric videos of her full-length track "Bring Me Close." "People have been discovering me as an artist and discover my other music. The notion of the brand pushing the artist - I owe all of that to Nicole and PrimalScream. Having the artist be a part of the campaign is something she and the company are committed to. It's wonderful having PrimalScream work with all of us to create tracks that end up becoming singles."
Hip hop/electronic dance music producer Nik Nikateen, who collaborated with Whisper City on "Dust Monolith" (and the man behind the breakout Three Loco single "Neato") believes Dionne is bridging two worlds in a way no one else can. "Working with Nicole is like having the Jimmy Iovine of advertising in the room with you," he concludes. "She knows what everyone needs and is on top of her game from start to finish."
About PrimalScream Music
PrimalScream creates original music and sound for all media; commercials, television, film, movie trailers, games, and branding. We put sound to picture with experience and passion. We have cultivated an collaborative environment and a team of professionals who produce and create music with the leading musicians, singers, songwriters, and film composers in the music recording industry. Our PrimalScream Team works diligently to bring together the perfect combination of talent for each and every project. The result is an unparalleled authenticity that enhances brand image and meaningfully communicates with audiences.
PrimalScream is a WBENC Certified Owned Business. The Women's Business Enterprise National Council is the largest third-party certifier of businesses owned, controlled and operated by women in the United States.
Credits
Client: Fruit of the Loom
Campaign: "Move to Comfort"
Spot Titles: Anthem (Mako)(7/27), Rings (Annie Automatic)(8/2), Ribbons (Gram Rabbit) (8/5), Trampoline (Mindy Gledhill)(8/9), Breakdance (Whisper City)(8/12), Backflip (Whisper City)(8/30)
First Airdate: 7/27/12
Agency : The Richards Group/Dallas
Agency Producer: Sheri Cartwright
Agency AD/CD: David Morring
Agency CW/CD: Tim Tone
Production: Furlined/LA
Director: Nez
Producer: Caroline Pham
DP: Max Goldman
Music: PrimalScream Music/Los Angeles and Austin
Music EP: Nicole Dionne
Composers (w/PrimalScream)/Artists:
Mako
Annie Automatic
Gram Rabbit
Mindy Gledhill
Whisper City
Editorial Company: Rock Paper Scissors
Editor: Elliot Graham
VFX Company: A52
Titles: Prologue
Colorist: Mark Gethin, MPC LA