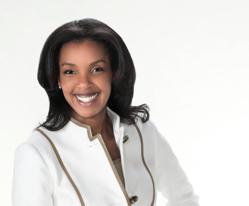 I hope to expand the scope of ICM's crisis communications services to include determining risk for crisis and planning and prevention.
Louisville, KY (PRWEB) September 18, 2012
Erika Hayes James, Ph.D., one of the country's leading experts on business crisis management is the new owner and President of ICM, bringing her talents as an impassioned speaker, teacher, and business leadership consultant to broaden the services of the crisis communication planning, training, and consulting company.
Founded in 1990, The Institute for Crisis Management has been at the forefront of helping organizations, government agencies, and non-profits with crisis communication planning and execution. Now, Erika James's vision is to expand the scope of the crisis management offerings. Her work explores the skills necessary to lead organizations throughout the life cycle of a business crisis. This includes determining a firm's risk of crisis and being prepared for it; containing a crisis with effective communications to internal and external stakeholders; and finally, examining the attributes of executives and organizations that allow companies to seize opportunity from crisis. James's crisis expertise helps business leaders bring about opportunities such as growth, innovation, resilience, change, and rebuilding trust in the organization .
Former ICM President Larry L. Smith has worked with Dr. James since 2003, when he was named a Batten Fellow at the Darden School of Business, University of Virginia where James is currently a Professor of Business Administration. Smith says the addition of Erika James and her experience, knowledge, and skills will allow the crisis consulting company to add custom crisis leadership development programs for clients in addition to the crisis communication planning, training, and consulting ICM has provided for the past 22 years.
Erika has helped executives lead their organizations by helping them develop skills in the following areas:

Decision-making under pressure
Managing, learning from, and seizing opportunity from crisis
Managing the change process after a crisis
Workplace diversity
Building trust in the workplace
With fellow ICM consultants, the offerings also include

Risk Management
Spokesperson training
Social media management
Crisis Communications
ICM's Annual Crisis Report is a free business resource, a compilation of news, crises analysis and trends, assessment of high risk industries, and valuable lessons on how crises happen and how organizations can be prepared if they do. The 2011 report can be downloaded now on the new ICM web site.
To learn more about Erika James, visit http://www.erikahayesjames.com.
And to learn more about ICM, meet the complete team of ICM's crisis consultants, and to register for a crisis communications training workshop, visit http://www.crisisconsultant.com.