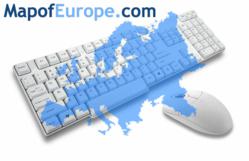 (PRWEB) September 19, 2012
Map of Europe is one of the most loved Eurocentric travel and education sites. With a heavy focus on maps, it was started in 1999 by Alan Paradzik as a fun side project. Being an avid traveller and possessing an insatiable appetite for all things historical, he decided to combine those 2 things into a personal website.
The site went from strength to strength, growing in readership and in content. Fast forward 13 years and the web is a very different place. The old design was starting to look at little long in the tooth. An upgrade was needed and that is what MapofEurope.com received.
It is now a friendlier and more easily navigable site with touches of web 2.0 that much easier on the eye. With a backend content management system which allows articles to flow at a faster rate to curb insatiable thirst for knowledge of the sites users.
No longer is it just a personal website but a fully fledged repository of all things European. With large maps and well researched articles in both the travel and historical niches. Not wanting to rest on their laurels, the team at MapofEurope.com has plans for some interesting additions. Look out for a news section as well as a user's blog area and forum. Realising that many of the sites surfers are from Europe itself, plans are also underway to increase the multilingual facet of the site.