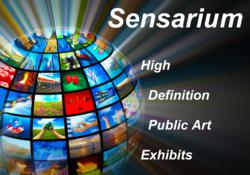 ...a couple watched the display a solid 45 minutes without moving.
Temecula, CA (PRWEB) September 18, 2012
Sensarium's pioneering SensariView High Definition Display Technology is now live at Olivera's Coffee and Juice Bar at 43049 Margarita Rd in Temecula, California.
Sensarium's SensariView technology exhibits art videos on two or more high definition displays simultaneously, creating a rich visual texture that is beautiful and inspiring. Each display shows video productions of an artist's work that draw from works of similar style, which deepens the visual and artistic experience.
"Shortly after the installation of the Sensarium display, a couple watched the display a solid 45 minutes without moving!" said Barry Cohen, owner of Oliveras in Temecula. Barry was surprised because he already has a lot of art hanging throughout the store.
Sensarium, which exhibits an artist at more than one location under the Featured Artist Program, allows an artist to be seen over a wide geographical area. The Temecula Valley Players, a Temecula theatrical troupe is now part of Sensarium's signature program and is currently on display at both Oliveras and California Tea & Coffee Brewery.
Sensarium is pleased to name artist Brady Beard of Brimstone Studio as Associate Curator. Brady is well known in the North San Diego County art community and will play a crucial role in Sensarium's development and outreach.
About Sensarium
Sensarium, Inc. (http://www.sensarium.com), founded by artists and engineers, provides high definition display technology for venues and production services to artists and photographers who want to effectively and affordably exhibit their works in public.
John Graffio
Sensarium, Inc.
(760) 888-4051
john.graffio(at)sensarium(dot)com