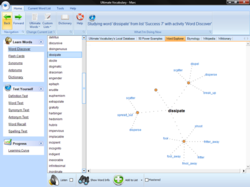 A variety of resources, strategies, and options are necessary to keep learners interested and involved.
New York City, NY (PRWEB) September 27, 2012
People who use the Blackberry Playbook now have a whole new variety of vocabulary improvement applications to choose from, developed by the startup company Hello-Hello. These applications are described as being "all-encompassing" because of their use of the latest technology. The applications are designed to assist learners with all aspects of vocabulary building, and reading, writing, speaking, and spelling skills specifically.
According to Marc Slater, Managing Director of Ultimate Vocabulary, "We are very happy about this latest release in vocabulary products. New ways, methods, and improvements are always welcomed to make learning more enjoyable and effective. Having ones for the Blackberry Playbook is just another great alternative."
The Blackberry Playbook applications are very in-depth and involved. Over 1,000 words and phrases are included which are divided up into seven different learning modules. In addition, applications are available in a wide range of different languages such as Basic English, Basic Chinese, and Basic Indonesian.
While vocabulary improvement applications for mobile devices have been on the market for several years, Hello-Hello believes theirs are the most comprehensive ones available to date. According to Hello-Hello, their applications are all-inclusive and they advertise them as providing complete vocabulary development.
"Alternatives in learning methods are always a good thing," adds Mr. Slater. "A variety of resources, strategies, and options are necessary to keep learners interested and involved. If Hello-Hello's software helps to accomplish this goal, we at Ultimate Vocabulary are in full support."
Only time will tell the effectiveness of Hello-Hello's new applications for the Blackberry Playbook. However, according to Mr. Slater, "It is very encouraging that developers of vocabulary learning methods are working towards keeping pace with the latest technology on the market."
For more information on the features of the Ultimate Vocabulary software, please visit: http://www.ultimatevocabulary.com/
******
About Ultimate Vocabulary™
Ultimate Vocabulary provides a proven and powerful platform, built to improve anyone's vocabulary.
The interactive self-improvement system provides more learning tools than any other program on the market, as well as more information on words.
The Ultimate Vocabulary software provides each and every user with a personal computer tutor. Providing a step-by-step guide to learning a powerful vocabulary, Ultimate Vocabulary is the learning tool everyone can benefit from.
Of course, the software is also backed by eReflect's iron-clad money back guarantee.