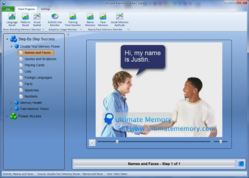 ...physical exercise is the number one way for adults to improve their memories.
New York City, NY (PRWEB) September 24, 2012
A new study by the University of Hamburg, Germany published in Health Psychology shows that physical exercise is the number one way for adults to improve their memories. Exercise can help brain health and serve as a preventive measure against future decline. It can slow down the loss of cognitive functioning and age-related diseases such as memory loss, dementia, and Alzheimer's.
According to Marc Slater of Ultimate Memory, "This research is great news. It is mind-blowing how something so simple can aid in memory improvement and brain functioning. I now challenge everyone, including myself, to go out and exercise on a regular basis."
As we age, the hippocampus, which is the part of the brain involved in memory, gets smaller and begins to shrink. As a result, cognitive functioning and memory ability declines. This can significantly impact a person's daily life and social relationships.
However, the study has shown that the hippocampus grows, and there appears to be an increase in blood flow to the brain, even with moderate exercise. Considerable memory improvement also results, making a person's life easier and more fulfilled on all levels.
"The magnitude of these findings is huge," Mr. Slater adds. "It will impact people world-wide and people of all generations. We need to go out and exercise."
While research in memory improvement will continue, these results are hopeful. It appears as though brain functioning can still be controlled to a degree as people age. There is the definite potential of helping support a person's brain health and level of memory.
For more information about how Ultimate Memory software can help, please visit: http://www.ultimatememory.com
******
About Ultimate Memory™
Ultimate Memory™ is the market's leading memory improvement software package.
Scientifically proven to improve memory with as little as ten minute's user per day, Ultimate Memory™ is also backed by an iron-clad guarantee.
Containing many innovative strategies, tutorials, tips and exercises, users benefit from a myriad of varied ways to learn.