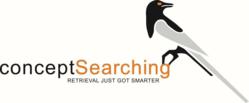 This webinar will explore how SharePoint has rapidly become one of the most important repositories of business information in many organizations today.
McLean, VA, US and Stevenage, UK (PRWEB) September 18, 2012
Concept Searching, a global leader in semantic metadata generation, auto-classification, and taxonomy management software, and developer of the Smart Content Framework™, will be hosting the sixth webinar in its 2012 Expert Webinar Series on Tuesday, October 2nd at 11:30am – 12:30pm EDT, along with Project Performance Corporation, and industry experts Art Bellis - VP of Sales and Alliances at Gimmal, Sue Gibbons - Systems Engineer at Gimmal, and Lt Col David Sanchez - USAFR, Deputy PM, USAF Pilot Physician Program. The topic of the webinar is "Applying Records Management to SharePoint."
This webinar will explore how SharePoint has rapidly become one of the most important repositories of business information in many organizations today. Yet the critical practice of the long-term management, storage and preservation of documents of record in accordance with federal guidelines is often overlooked. And presenters will share insights into the challenges and some possible solutions associated with managing records in SharePoint, whether you are using the SharePoint Records Center or a third-party Records Management repository.
Industry experts will demonstrate how the automatic application of semantic metadata can be used to tag documents of record and how this process is being used to great effect by global organizations that have deployed an integrated Concept Searching and SharePoint solution. We will hear how these organizations have ensured compliance while reducing organizational risk, and we will also discuss Concept Searching's Smart Content Framework™.
Hear from two experienced guest speakers from Gimmal. Art Bellis, Vice President of Sales and Alliances, brings 20 years of experience developing and marketing records management solutions. Art is recognized as an industry expert and has been regularly called upon by ARMA and AIIM to speak on issues related to technology and information management. Various academic programs including the University of British Columbia, University of Washington and Vancouver Community College call on Art to lecture on records management issues and trends.
Sue Gibbons, Systems Engineer at Gimmal, has over 20 years of IT and business experience, specializing in enterprise content and records management. Sue has worked with various Fortune 500 companies within regulated industries such as Life Sciences, Oil and Gas, and Government to design and implement records management programs. She holds a B.S. in Information Management from Drexel University.
Guest speaker Lt Col David Sanchez, USAFR, Deputy PM, USAF Pilot Physician Program, is an Individual Mobilization Augmentee attached to the Pilot Physician Program for the Air Force Medical Service, and will share his experience in information management and metadata driven application of policies, delivering a secure collaborative knowledge environment. Focused on both Information and Knowledge Operations, Lt Col Sanchez also serves as an Air Force Medical Service representative with the Air Force Enterprise Information Services Working Group and is responsible for exploiting the SharePoint ECAL Suite Enterprise Agreement for the Air Force Medical Service, by driving the ability to leverage automatic metadata tagging capabilities and Managed Metadata Services within SharePoint 2010.
Space is limited. Register now at: https://www3.gotomeeting.com/register/711910630
Follow Concept Searching: http://www.twitter.com/conceptsearch
About Concept Searching
Founded in 2002, Concept Searching provides software products that deliver conceptual metadata generation, auto-classification, and powerful taxonomy management from the desktop to the enterprise. Concept Searching, developer of the Smart Content Framework™, provides organizations with a method to mitigate risk, automate processes, manage information, protect privacy, and address compliance issues. This infrastructure framework utilizes a set of technologies that encompasses the entire portfolio of unstructured information assets, resulting in increased organizational performance and agility.
Concept Searching is the only platform independent statistical metadata generation and classification software company in the world that uses concept extraction and compound term processing to significantly improve access to unstructured information. The Concept Searching Microsoft suite of technologies runs natively in SharePoint 2007, SharePoint 2010, SharePoint 2013, FAST, Windows Server 2008 R2 FCI, and in Microsoft Office applications.
The building blocks of Concept Searching's Smart Content Framework™ are being used by organizations from a diverse number of industries including the US Army, the US Air Force, the UK MOD, Baker Hughes, Deloitte, Logica, NASA Safety Center, OppenheimerFunds, Point B, Perkins+Will, Parsons Brinckerhoff, Burns & McDonnell, MarketResearch.com, the US Department of Health & Human Services, Transport for London, the London Fire Brigade, the National Transportation Safety Board, and Xerox.
Headquartered in the US with offices in the UK, South Africa and Canada, Concept Searching solves the problem of finding, organizing, and managing information capital far beyond search and retrieval. The technologies are being used to improve search outcomes, enable effective records management, identify and secure sensitive information, improve governance and compliance, add structure to Enterprise 2.0, facilitate eDiscovery, and drive intelligent migration. For more information about Concept Searching's solutions and technologies please visit http://www.conceptsearching.com.
About Project Performance Corporation (PPC)
As the North American arm of AEA, the international energy and environment consultancy, Project Performance Corporation brings to bear a wide range of expertise in business management, technology solutions, and the business drivers that its clients deal with every day. Its staff includes more than 300 dedicated and knowledgeable professionals, united by a tightly-knit team attitude. As a result, PPC excels at creating easy-to-use solutions to the most complicated challenges, allowing clients to keep their focus where it should be: on accomplishing their core missions.
About Gimmal
Gimmal provides information and records management solutions that accelerate the delivery of business value and compliance. Its software products extend the world's market-leading enterprise platforms, Microsoft SharePoint and SAP, to provide best-in-class unified records management, information governance, compliance, and business application solutions. For more information, visit http://www.gimmal.com.
All product and company names herein may be trademarks of their respective owners.