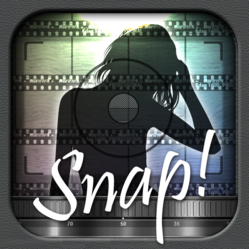 iPhone Photo App Pocket Snapper Updated with Enhanced Editing Functions
(PRWEB) September 19, 2012
Kdan Mobile, a mobile software application developer, has announced an update to enhance its popular iPhone photo app, Pocket Snapper – iModel and Virtual Studio. The latest update aims to enrich users' photo editing experience by offering more photo enhancement options such as adjusting the brightness of photos and customizing backgrounds for layout photos. The Company has also made sharing works easier with support to SkyDrive and Picasa, in addition to its support to various other popular social networking sites.
Pocket Snapper has received high recognition among users for its unique ability to capture still images from self-recorded videos. "This is an innovative idea as we are the pioneering app in the iOS market that offers this feature," commented Kevin Huang, Chief Designer of Kdan Mobile. "No more missing shots or taking blurry pictures in a moving scene," added Huang. In addition, Pocket Snapper includes a special iModel mode, which resembles an authentic photo studio with clips of real models for users to practice their photo shooting skills and experience the fun of a fashion photographer.
Another Highlight of Pocket Snapper, as pointed out by numerous reviewers, is its versatile photo enhancement tools such as adding frames, applying special effects, and arranging layouts. Kdan Mobile's latest efforts further turn Pocket Snapper into a powerful photo workshop with more editing options such as adjusting the brightness of photos and customizing backgrounds for layout photos. "The strengthened editing tools allow users to easily showcase their creativity and transform plain photos into brilliant works," said Kenny Su, CEO of Kdan Mobile. In addition to Facebook, Twitter, and Flickr, the new version of Pocket Snapper has made sharing works easier with support to Picasa and SkyDrive. Users can also share their masterpieces through SnapLife, Pocket Snapper's exclusive member community.
According to Kdan Mobile, Pocket Snapper is designed to help users rediscover the love of taking pictures. "We're confident that Pocket Snapper stands as an ideal photo app for both professional and amateurs with its powerful blend of features," remarked Su. He also promised that the Company will update Pocket Snapper on a regular basis with features requested by users to provide continuous customer satisfaction.
About Kdan Mobile Software
Kdan Mobile Software is a company specializing in mobile application development. Kdan aims to bring a ubiquitous mobile operating environment to end users by providing innovative service and powerful technology. © 2012 Kdan Mobile Software Ltd. All Rights Reserved.