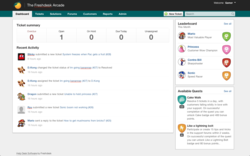 We (Freshdesk) obsessively focus on agent productivity, giving every support agent more ways to win the love of customers
Walnut, CA (PRWEB) September 17, 2012
If your work involved spending 8 hours looking through complaints and resolving issues, you'd agree that supporting customers is not the most fun thing to do…yet!
Freshdesk, the fastest growing cloud-based customer support solution, today announces the release of its new gamified platform, Freshdesk Arcade. With its new gamified help desk, Freshdesk aims to turn the boring, fire-fighting role of supporting customers into an exciting and collaborative game for every help desk agent.
Freshdesk is the first full-service help desk software to bring powerful gamification capabilities to customer support. Now, for support agents using Freshdesk, every new ticket represents an opportunity to collect points in their support game. Agents are awarded fresh points for achievements like fast ticket resolutions, issues resolved during the first call, and high customer satisfaction ratings.
As agents win more points, they level up from Support Newbies to Help Gurus and work their way up the internal leaderboards, creating both an environment of healthy competition and collaboration in the team.
Agents with the most fresh points for each achievement in a month also get to collect trophies like "Sharpshooter", "Speed Racer" and "Customer Wow Champ". The overall top scorers win the "Most Valuable Player" badge for that month. However, agents can also lose points when they get negative reviews from a customer or violate service-level agreements.
One of the biggest challenges in customer support is keeping the team motivated and productive to quickly resolve customer issues and complaints. Freshdesk Arcade gives managers deep insights into the quality of their customer service system, while keeping agents enthused and motivated.
Freshdesk Arcade also allows support teams to create specific games, aligned to their business goals, through quests. For example, support managers can offer agents additional points or special badges for updating the knowledge base with new solutions, or for stepping on the pedal and clearing the ticket backlog. By creating new quests, support agents can encourage their teams to focus their support efforts on the areas that need the most attention, all while rewarding them for successful behavior.
"At Freshdesk, we obsessively focus on agent productivity, giving every support agent more ways to win the love of customers," says Girish Mathrubootham, Freshdesk CEO. "With Freshdesk Arcade, we are ultimately giving companies on Freshdesk the ability to turn customer support into a fun game for everyone—the business, agents and the end customers."
Freshdesk Arcade will be part of its new Estate Plan at $49/agent/month. However, all existing customers in Freshdesk's Garden Plan will have access to Freshdesk Arcade for the same price they have been paying all along. As in all other Freshdesk plans, customers will be able to enjoy the first agent in this plan for free forever.
While Freshdesk's gamification advancements affect customer service agents directly, it is frustrated customers who benefit the most. Customer satisfaction takes on paramount value as agents are independently motivated to win the game of customer service. Watch an overview of the Freshdesk Arcade here.
Freshdesk is social customer service software that allows companies of any size to support customers through both traditional support channels like email and phone, as well as social networks such as Facebook and Twitter.
In May, the company announced its Freshdesk Future Fund to provide powerful support tools to startups and small businesses. To date, the fund has already benefitted over 200 startups worldwide, including TechCrunch Disrupt winner, UberConference.
Freshdesk is still looking for another 300 startups to participate in the fund. Interested companies can learn more here: http://freshdesk.com/startup