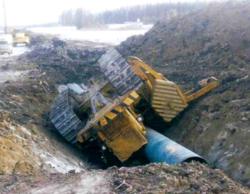 Many of these rollover-related injuries and fatalities can be prevented through the simple implementation of Roll Over Protective Structures.
Sioux City, Iowa (PRWEB) September 18, 2012
Radius Steel Fabrication – SOO Tractor, the U.S. based steel fabricator, announced today that the company has been contracted to build Roll Over Protective Structure (ROPS) mounts designed for heavy equipment. The mounts are part of a ROPS designed to provide protection to the operator and equipment in the event of a rollover. Radius Steel is ISO certified and has the experience and capability to manufacture world-class products.
According to the Interstate Natural Gas Association of America (INGAA) Foundation, the second major source of occupational fatalities is machinery-based injuries. The most common cause of these heavy equipment operators' occupational deaths is rollovers.
Many of these rollover-related injuries and fatalities are prevented through the industries' simple implementation of roll over protective structures. However, there still remain many older generation low drive pipe layers operating without ROPS. These are the machines that Weldco-Beales Manufacturing primarily supplies and retrofits ROPS for. They have engineered, manufactured, and tested numerous Caterpillar and Komatsu pipe layers.
ROPS provide operator and machine protection in the event of a rollover. Weldco-Beales' ROPS comply with rigid standards through advanced engineering and manufacturing. The company's state of the art Structural Performance Test Stand is used to quantify their computer analysis, which determines the stress level of each section of the ROPS. ISO 3471 is the most predominant standard for off-highway machinery. It requires a side, vertical, and rear push test, and side-to-side energy absorption. All Weldco-Beales prototypes are destructive tested to ISO 3471:2008 in order to provide operators and machines with the highest quality security.
Weldco-Beales transforms steel into versatile attachments serving the construction, forestry, mining, and road maintenance industries. It's people, technology, and robotics forge customer efficiency, product durability, and operator safety. "We understand and take pride in the value we deliver to customers and the strength of partnerships we cultivate," says Nick Cindrich, Product Manager, for the Forestry and Oil and Gas Division. "We invite U.S. companies to visit our booth at the MINExpo International in Las Vegas on September 24-26th. People will be able to meet our team and learn firsthand the quality and design that is built into all our attachments."
Installing ROPS on machines shows a true commitment to safety. Although ROPS are not currently enforced on older generation low drive pipe layers, pipeline companies, contractors, and machine operators are demanding ROPS. Even if employees are well trained to prevent rollovers, accidents can still happen. Companies are protecting operators and machines in the case of an accident with ROPS, which additionally protects the company from the risk of serious lawsuits and expensive machine repairs.
Weldco-Beales is concerned about safety, which is why they place safe practices at the top of their priorities with both their manufacturing facilities and the final products they manufacture. At the end of the day they want everybody to get home safely.
About Weldco-Beales Manufacturing:
Weldco-Beales Manufacturing is a market leader that designs and manufactures specialized, high-quality heavy equipment attachments dedicated to servicing the construction resource, forestry, mining, scrap recycling, and road maintenance industries. A top 600 Canadian company, Weldco-Beales, is the largest supplier of heavy equipment attachments in Canada and has been part of the NorTerra Group of Companies since 1998. Their clients include Finning Canada, Caterpillar Work Tools, SMS Canada, Strongco, Wajax, Brandt, Parker Pacific, Rocky Mountain Equipment, and Yukon Equipment. These companies are recognized dealers for Caterpillar, Komatsu, Volvo, Hitachi, Tiger Cat, John Deere, and Case.
Weldco-Beales Manufacturing's four product divisions include:
The Mining Division, which offers tire manipulators, cable reelers, ejector boxes, ejector beds, large capacity excavator buckets, and coal and reclamation dozer blades;
The Forestry Division, which offers butt-n-top grapples, clam grapples, operator cab guarding, and forestry cab conversions;
The Oil & Gas Division, which offers pipe grapples, roll over protection structures / ROPS, mat grapples, and pipe line spades;
The Road Maintenance Division, which offers grader snow wings (masted and mastless), grader vee plows, ice scarifiers, and snow-brooms.
For more information on the complete range of products and services provided by Weldco-Beales Manufacturing and to learn what they can do for you, please visit: http://www.Weldco-Beales.com
About Radius Steel Fabrication – SOO Tractor:
Radius Steel Fabrication - SOO Tractor is an established and leading steel fabrication company in the United States producing exceptional products for a range of classic brands, amongst them, Massey Ferguson, AGCO, Hesston, Challenger, Wil-Rich, SmithCo / Side-Dump, and Silent Drive.
Radius Steel Fabrication - SOO Tractor was established in 1941 to meet the needs of the agricultural machinery industry and has become renowned for the quality of its customized steel fabrication; setting new standards of environmental protection and exceeding the requirements of its clients and partners. We are proud of our ISO 9001 certification and in the satisfaction of our customers.... we have a warranty rate of 6/10th of 1%.
Radius Steel Fabrication – SOO Tractor's tradition of excellence provides customized fabrication integrated with electronics and cutting-edge technology to an expanding range of industries - amongst them, Telecommunications, Military/Defense, Heavy Equipment/Construction, Refuse, and Oil and Gas.
For more than 70 years of service, Radius Steel Fabrication - SOO Tractor's core values are strong: We believe in providing exceptional quality; we believe in the value of "American manufacturing"; we believe in being the best at what we do."
For more information about Radius Steel Fabrication and to learn what we can do for you, please visit: http://www.RadiusSteel.com