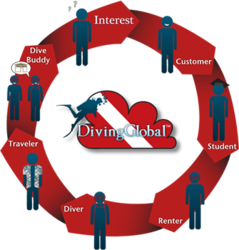 "Our application was built with the idea to remove IT challenges from business owners." Michael Amico, DivingGlobal CEO
Silicon Valley, CA (PRWEB) September 19, 2012
DivingGlobal, has announced the release of a pioneering cloud service designed to revolutionize the diving industry, with the release of its flagship CRM application. DivingGlobal's technology provides dive store owners the ability to engage their customers through open, mobile and social channels, allowing the seamless integration of IT management solutions across all lines of business from anywhere in the world. As a result, dive store owners will be in a position to radically improve time management, develop a more holistic connection with customers and restore the demands of running a dive store to its exciting and dynamic origins.
Michael Amico is DivingGlobal's Founder and CEO. A business executive with over fifteen years experience in software sales management representing industry leading companies such as Oracle Corporation and Salesforce.com, Mr. Amico's professional experiences have taken him from the heart of Silicon Valley to the emerging markets of Asia Pacific. During the past seven years Mike was directly responsible for launching multiple software offices in APAC and North America, all the while indulging his passion for diving. When asked about the value that DivingGlobal's cloud solution is poised to deliver to the diving industry Mr. Amico stated, "Our application was built with the idea to remove IT challenges from business owners. It's no longer necessary to pay for expensive upgrades, download software, or waste time getting your system to communicate properly with the industry standard. We take the computer and software headache out of business operations by utilizing the power of our cloud (Software as a Service) model".
DivingGlobal product suites can be deployed for use locally or remotely at the touch of a screen on any mobile platform. Leveraging internationally accepted information security protocols, customer data is always accessible and fully secure. Customers can enjoy the freedom of cloud computing with a "virtual office" at their store, home, hotel or smart phone without the worry of being out of touch or "unplugged" from the store.
About DivingGlobal
DivingGlobal is a global enterprise software company with its roots in the Silicon Valley. Our "Best of Breed" IT solutions are developed with a keen understanding of key drivers of the diving industry and a hands-on understanding of the unique business challenges facing dive shop owners.
We provide retail store operators the ability to engage their customers and grow revenue through open, mobile, and social channels. Our App allows retailers one place to access all of their crucial business systems from anywhere on the planet on any device.
DivingGlobal – Get back into the water!