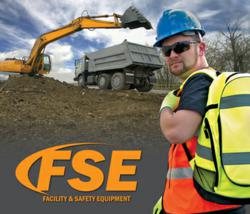 Hazards exist in every workplace in many different forms: sharp edges, falling objects, flying sparks, chemicals, noise and a myriad of other potentially dangerous situations.
Portland, OR (PRWEB) September 18, 2012
Graphic Products, the world's leading safety and industrial label printer manufacturer, best known for DuraLabel systems and supplies -- has released its first Facility & Safety Equipment product catalog. The catalog is available to those who visit http://www.graphicproducts.com/fse/.
Earlier, Graphic Products introduced the Spill Arrest family of application-specific absorption products.
With the addition of both catalogs, industrial consumers can now purchase everything from safety glasses and earmuffs to HazMat pads, drain covers and link repair kits from Graphic Products.
While workplace fatalities have decreased in the US in recent years, thousands still die each year, according to the US Bureau of Labor Statistics. As Secretary of Labor Hilda Solis said, ""Every day in America, 13 people go to work and never come home. Every year in America, nearly 4 million people suffer a workplace injury from which some may never recover. These are preventable tragedies that disable our workers, devastate our families, and damage our economy. American workers are not looking for a handout or a free lunch. They are looking for a good day's pay for a hard day's work. They just want to go to work, provide for their families, and get home in one piece."
"This catalog, which focuses on maintenance, repair, operations and personal protective equipment, is a step in the right direction – and complements our growing line up of labeling systems and supplies," explained Steve Stephenson, Graphic Products, General Manager.
The 20-page catalog includes:

Eye, head and face protection
Hearing protection
Respirators
Hand protection
Welding and flame-resistant safety products
Ergonomic support
Fall protection
Protective and high-visibility apparel
Work zone equipment
Eyewash/shower equipment
Hazardous storage
Arc flash tool kits, gloves, face shields, outerwear, blankets and aprons
Graphic Products manufactures a broad spectrum of industrial labeling systems for global companies such as Amazon.com, Boeing, Intel and Toyota. With more than 50 types of labeling supplies, Graphic Products, Inc. helps companies solve communication problems in the toughest industrial environments.
DuraLabel applications include pipe marking, OSHA, safety standards, arc flash, wayfinding, lockout/tagout, mine safety, wire marking, barcoding and floor marking. Every DuraLabel printer purchase includes a three-year warranty, DuraSuite label creation software and free technical support for life.
For your complimentary facility and safety equipment catalog, visit http://www.graphicproducts.com/fse/.