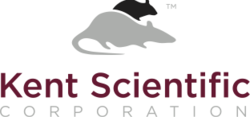 The economy of only having to use a fraction of the isoflurane I used prior to SomnoSuite for routine surgeries is certainly attractive
Torrington. CT (PRWEB) September 18, 2012
Kent Scientific Corporation has re-invented anesthesia for mice and rats. Its new, precision- and safety-oriented SomnoSuite Small Animal Anesthesia System includes an Integrated Digital Vaporizer (IDV), electronic flowmeter and pump in a single, compact 8.5" x 11.5" x 3" tabletop unit. It is by far the safest and most precise anesthesia system available.
Specifically designed for use with mice and rats, SomnoSuite is factory-calibrated for use with isoflurane, sevoflurane and desflurane. In lieu of using a large canister as an anesthetic reservoir, the safety-first SomnoSuite employs standard glass syringes to dispense the anesthetic with no scavenging system required. A small filter is included to catch the miniscule amount of anesthetic that is unused. This kind of scavenging-less set up is only possible because of SomnoSuite's precise control and miniaturized mechanisms.
Dialing in the percent of anesthetic gas delivered to the animal is digitally controlled for exact precision and safety. Because you are using such a small amount of anesthetic and oxygen, there is very little exposure risk to you and your environment.
Typical "human-sized" vaporizers on the market today waste more anesthetic gas than would normally be used in a given procedure (typically 25cc per procedure). By contrast, SomnoSuite's precise control enables such a high level of efficiency that the unit uses less than 1cc of isoflurane an hour for a typical procedure. "The economy of only having to use a fraction of the isoflurane I used prior to SomnoSuite for routine surgeries is certainly attractive," said an investigator at the University of Illinois. A research associate at Brigham Young University added that because of the better control the system provides, "…there were no instances in which mice suffered lethal overdose."
The SomnoSuite also has a significantly smaller footprint on the lab bench compared to the traditional vaporizer and stand. Additional modules that can be integrated into the SomnoSuite system include the MouseVent™ Automatic Ventilator and MouseSTAT™ Pulse Oximeter/Heart Rate Monitor.
With the MouseVent Automatic Ventilator module, the anesthetic is delivered directly from the vaporizer to the animal along the inspiratory line from the built-in ventilator. This close proximity of the vaporized gas to the animal's lungs permits the use of far less anesthetic than traditional vaporizers that require direct connection to a stand-alone ventilator. The MouseVent is both a volume and pressure controlled ventilator.
The MouseSTAT Pulse Oximeter/Heart Rate Monitor module was specifically designed for use on mice. The MouseSTAT Paw Sensors were designed for small laboratory animals such as mice. With other available sensors, the MouseSTAT can be used on any size animal. The sensors use miniature LEDs and light sensors to transmit and receive the red and infrared light, proportional to the size and translucence of the mouse
For additional information, visit http://www.kentscientific.com/Somno. For questions or technical support, contact Kent Scientific toll-free in the US at 1-888-572-8887 or 860-626-1172
About Kent Scientific Corporation
We provide the innovative products to help you unravel life's mysteries and bring drugs to market faster and more efficiently. Our pioneering efforts in developing non-invasive blood pressure measuring equipment for mice and rats enable you to achieve results that are fast, reliable and precise. And, we support your research with an outstanding group of dedicated employees to provide you with superior technical support and clinical product training at your facility.