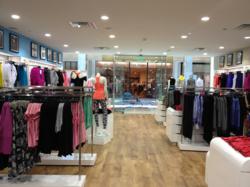 We look forward to experiencing further retail success with SPL as we continue to grow our presence throughout California and the United States.
(PRWEB) September 18, 2012
SPL Realty Partners, exclusively representing Australia's award-winning women's active wear retailer Lorna Jane, today announced 11 leases have been secured for Lorna Jane's expansion into the United States.
The prominent retail sites are located throughout the Southern California region including stores in Santa Monica, Woodland Hills, Glendale, Irvine and Huntington Beach. A warehouse was also secured for the support of the network of retail stores and online fulfillment in Santa Monica, Calif.
Founder and Chief Creative Officer Lorna Jane Clarkson said she and her husband, Bill Clarkson, CEO of Lorna Jane, are proud to be represented throughout California and the United States by retail leasing expert Scott Lifschultz, founder and president of SPL Realty Partners.
"At Lorna Jane, we operate at an exceptionally fast pace, so it was critical for Bill and I to identify a real estate company that would not only support us in our new venture, but take our expansion plans to the next level," Lorna Jane Clarkson said.
"As we are based in Australia, the consistent dedication, diligence and focus of Scott Lifschultz ensures Bill and I can comfortably make business decisions from the other side of the world. We look forward to experiencing further retail success with SPL as we continue to grow our presence throughout California and the United States," she said.
The locations that SPL Realty Partners have secured on behalf of Lorna Jane include:

Santa Monica Place, Santa Monica, Calif.: Opened June 2012 in a prime, end-cap location across from True Foods. Other notable tenants include Louis Vuitton, Tiffany, Michael Kors, Johnny Was, Tory Burch, Burberry and Nike.
The Promenade at Westlake, Westlake Village, Calif.: Opened July 2012 in a 1,650 square-foot space formerly occupied by M. Fredric Kids. The center's anchors include Bristol Farms, Sports Authority, Barnes & Noble and Cost Plus.
Westfield Topanga, Woodland Hills, Calif.: Opened July 2012 in a 2,010 SF space formerly occupied by Nine West in the Nordstrom Wing, across from Free People. Westfield Topanga is the dominant, super-regional mall serving the San Fernando Valley.
Glendale Galleria, Glendale, Calif.: Opening end of this month in a prime retail space with more than 33 feet of frontage and sits adjacent to L'Occitane across from Coach. Bloomingdales will join the mall's anchors, Macy's, JC Penney and Target, in the fall of 2013.
Irvine Spectrum, Irvine, Calif.: Opening end of this month in a prominent corner location of 927 square feet near Adidas, Oakley, Buckle, Lids, Hollister and ANGL. Anchored by Nordstrom, Macy's and Target, Irvine Spectrum has more than 130 retail stores, restaurants and entertainment venues.
Bella Terra, Huntington Beach, Calif.: Opening October 2012 in a 2,085 square-foot space between ANGL and No Rest For Bridget. Bella Terra is a 775,000 square-foot, open-air lifestyle center with tenants including Whole Foods, Barnes & Noble and Cheesecake Factory.
Brentwood, Los Angeles, Calif.: Lorna Jane will occupy this 4,000 square-foot, two-level space in late 2012, utilizing the second floor for its U.S. company headquarters, and the ground floor for retail. The property is located at 11715 San Vicente Blvd. sits directly across from Whole Foods.
Westfield Fashion Square, Sherman Oaks, Calif.: Opening October 2012, the space, formerly occupied by Betsey Johnson, is located directly across from a high-volume Sephora in center court. Other immediate co-tenants include Guess, Victoria's Secret, Pottery Barn, Coach, Michael Kors and the Disney Store. The 850,000 SF two-level regional mall is anchored by Macy's and Bloomingdales.
Shops at Mission Viejo, Mission Viejo, Calif.: Expected lease signing of this 1,966 square-foot space formerly occupied by Apricot Lane is expected by the end of this month. It is located between Ann Taylor Loft and Restoration Hardware, just outside Nordstrom. Other anchors include; Macy's, Macy's Men & Home and Forever XXI.
Westfield Century City, Century City, Calif.: Lease is out for a prime 1,031 square-foot newly created space near Louis Vuitton and Sephora. Anchors include Bloomingdales, Macy's and AMC Theaters.
Santa Monica Warehouse, Santa Monica, Calif.: The warehouse services the retail stores and provides fulfillment of online U.S. orders. The space is close to 5,000 square feet and is easily accessible from the I-10 freeway.
Scott Lifschultz of SPL Realty Partners commented, "Lorna Jane is taking California by storm. There will be 11 or 12 stores open by the end of this year with another 20 new stores slated for 2013."
Lifschultz continued, "This is not about just opening stores; there is a much greater picture here. It's about building a brand, awareness, and giving the customer a choice. Bill and Lorna have such a passion for life and their business and a clear vision to becoming the best women's active-wear brand in the world. It's truly an honor to be an integral part of their growth here in the U.S."
ABOUT LORNA JANE
Lorna Jane is a premier, Australian-based women's active wear label, and has been at the forefront of fitness and fashion for more than two decades. At Lorna Jane our aim is to inspire women to live their best life through active living. We believe in a three-pillared philosophy of MOVE NOURISH BELIEVE, and it is this mantra together with our clothing that encourages and motivates women globally to be the best they can be. For more information please visit http://www.lornajane.com.
ABOUT SPL REALTY PARTNERS
SPL Realty Partners is a Los Angeles-based retail real estate brokerage and consulting company primarily focused on representing retail chains with their real estate strategies and expansion throughout Southern California and the United States. For more information please visit our website at http://www.splrealty.com