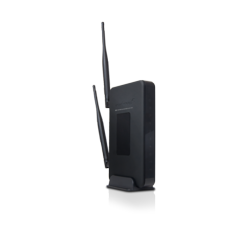 Chino, Ca. (PRWEB) September 18, 2012
Amped Wireless, the leading manufacturer of high power, long range wireless communication products for the home and office, today announced the launch of the AP20000G High Power Wireless-N 600 milliwatts (mW), Gigabit Dual Band Access Point, a versatile wireless access point designed to deliver powerful, long range, high-performance wireless access for existing home and business networks.
Through the use of a high speed 620MHz processor, premium high power Wi-Fi 600mW 2.4GHz amplifiers, high power 5.0GHz Wi-Fi amplifiers and two dual band high gain antennas, the Amped Wireless High Power Gigabit Dual Band Access Point delivers up to 7,500 square feet of simultaneous dual band Wi-Fi coverage for large homes and offices.
The AP20000G features a USB port to share files on a USB storage devices among local connected users and four gigabit wired ports for connecting additional wired network devices such as, servers, computers and other networking accessories. The High Power Dual Band Wi-Fi Access Point includes premium software features, such as guest networks, adjustable Wi-Fi coverage controls, and support for the latest Wi-Fi security to secure your Wi-Fi experience.
Advanced software allows the AP20000G to automatically configure itself to a network's settings without the user's input or configuration. The AP20000G simply connects to the router's network port, automatically configures itself and creates a new wireless and wired network for connecting wired or wireless computers, printers and other network devices.
Key Features

Dual High Power 2.4GHz 600mW Amplifiers, Dual High Power 5.0GHz Amplifiers and Dual Low Noise Amplifiers for Improving Wireless Reception
Dual High Gain 5dBi Detachable Dual Band Antennas
Powerful Internal Processor for Faster Networking
5x Gigabit Networking Ports (1 x Uplink, 4 x LAN)
USB 2.0 Port for Sharing USB Storage Devices Locally
Adjustable Wi-Fi Coverage
Provide up to Eight Wi-Fi networks for guest access
Intelligent plug-and-play setup
The Amped Wireless Difference: High Power Technology
Amped Wireless products feature advanced Wi-Fi amplifiers to boost wireless performance. Standard Wi-Fi devices have a wireless output power of 50mW, while Amped Wireless products boasts dual 2.4GHz amplifiers with 600mW of output power and dual 5.0GHz amplifiers. The boosted performance is optimally tuned with dual high gain 5dBi dual band antennas for maximum range and performance. (Typical Wi-Fi devices do not utilize wireless amplifiers and are equipped with antennas that have zero antenna gain.)
Pricing and Availability
The AP20000G has a retail price of $169.99 and is available now for pre-order from the Amped Wireless web store. It will be available nationwide late September.
Learn More: http://www.ampedwireless.com/products/ap20000G.html
Includes Free Elite Support: Industry leading, US-based, in-house technical support provided by Amped Concierges. Learn More: http://www.ampedwireless.com/elitesupport
Range Increase Guarantee: The AP20000G is eligible products for Amped Wireless' Range Increase Guarantee Program. Find more information here: http://www.ampedwireless.com/guarantee
Follow Us:

About Amped Wireless
Amped Wireless' mission is to develop the highest quality, long range wireless products through experience, passion, innovation and advanced technology that exceed customers' needs and expectations. Amped Wireless specializes in providing long range wireless consumer and business communication products for the home and office. For more information on Amped Wireless, please visit the Amped Wireless website at http://www.ampedwireless.com.
Amped Wireless: The Leader in High Power Wireless Networking™
For more information about Amped Wireless' Advanced High Power Technology please visit
http://www.ampedwireless.com/learningcenter/