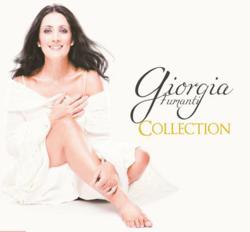 "My desire is to take the audience into this special place where hearts are free and united. I hope to touch and inspire with all the magic that music makes me feel," Fumanti says, with characteristic honesty and candor.
Victoria, B.C. (PRWEB) September 18, 2012
International classical pop crossover star Giorgia Fumanti is set to release her 6th album, Collection on September 18. And an amazing collection it is, featuring 33 songs, among them nine new compositions, spanning almost 10 years of an illustrious career that has taken her from the concert halls of her native Tuscany to Montreal, Moscow, Beijing, London, New York, Los Angeles, Miami, Cape Town, Tokyo, Taipei, Hong Kong, Seoul, Athens and beyond.
This latest recording contains some of the greatest pop and classical hits ever written, including a virtual duet with the legend Luciano Pavarotti, songs by David Foster, the great film score composers John Barry, Ennio Morricone and Vangelis, as well as Billy Joel, Paul Simon, Abba, Barbra Streisand, Lucio Dalla, Chopin, and Brahms.
In the pattern of Andrea Bocelli and Sarah Brightman, this Italian-born, Montreal based soprano is that rare breed of beautiful and charismatic performer able to blend the formal and disciplined world of opera and classical, with the loose and unstructured realm of pop and folk. She is equally comfortable sharing the stage with opera crossover legend José Carreras as she is trading lines with soft rock ballad sensation Michael Bolton, or accompanying internationally renowned concert pianist Lang Lang.
Fumanti has topped the charts before with her hit EMI debut album From My Heart, which charted in the top 20 on Billboard's classical crossover albums, and went No. 1 in Japan and South Africa.
Fumanti will celebrate the release of Collection with concerts in Montreal (October 28) and Quebec City (October 18), followed by a 30-city engagement in la Belle Province, Pittsburg, Guangzhou, Beijing and Florida. In 2013, she will embark on a cross- Canada tour.
As part of the CD launch, fans from around the world will have a chance to win a trip for two and tickets to see Giorgia Fumanti performing live at Place des Arts in Montreal in April 2013. To enter visit http://fumanti.yupiq.com/sim/activity/1 for details.