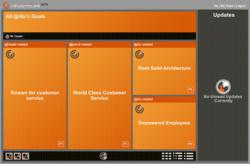 "Seeing progress on my goals, whether long or short-term, is inspiring." - Kelly Loubet
(PRWEB) September 18, 2012
Mothers, who have been a strong voice to marketers and advertisers with their considerable purchasing power, are finding an additional voice through blogging. These women's voices are being heard; according to Forbes, the top 15 mom bloggers have more influence than The New York Times.
Mashable reported more than 3.9 million mom blogs in existence. Of the more than 70 percent of U.S. moms in the labor force, many read these blogs for advice, even if they do not own their own. For these women, creating and reaching goals--not only personally, but also with their families--is vital.
Christina Linnell, owner of Linnell Media Group, said her days start at 5:30 a.m. by checking social media feeds for her clients before waking her children and helping them get ready for school. She said she focuses on wrapping up most of her work before her children get off their afternoon school bus, but there are times that she still needs to work into the night.
"It takes a lot of organization and a lot of time management," she said.
Linnell has a binder that holds not only her professional goals, but a daily "to-do" list. She uses this along with Google Calendar synced to her Android to set measurable objectives, crossing them off as she gets them done and sending weekly updates to her clients for additional accountability. She said goal planning needs continual re-evaluation and has seen several women grow frustrated with it.
"If I don't have it written down on a daily basis, it doesn't happen for me," Linnell said. "You sometimes genuinely feel that you are accomplishing nothing, especially working at home."
Although many moms like Linnell have management systems, some get overwhelmed by the eventual pile of paper or want more collaborative power. That's where Objectiveli comes in. The online application offers a single place to set goals and objectives, view progress and share with others, eliminating the need for email, spreadsheets and post-it notes.
Kelly Loubet, a writer and speaker, uses Objectiveli to reach her goals, which are intertwined with her family's.
"It's not just setting goals and objectives," Loubet said. "It's the act of recording them that keeps me accountable."
Loubet said she shares her fitness goals with a friend that cheers her on and rewards herself whenever she reaches financial goals, which she can easily see with the app.
"Seeing progress on my goals, whether long or short-term, is inspiring," Loubet said.
In fact, Loubet recently wrote a blog post encouraging others to use Objectively, since it helps her to not only achieve success in her busy schedule, but allows her to see the progress she's making.
Objectiveli is an online application that allows individuals to easily manage goals and objectives. Objectiveli was founded in 2012 by Ritu Raj. Raj is also the founder of OrchestratorMail, an email-based platform for coordination, Avasta, a cloud computing company, and Wag Hotels, the largest chain of dog hotels. Additional information can be found on Objectiveli's website: http://www.objectiveli.com.