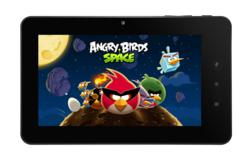 The latest TurboTab really is the perfect, all around mobile device, complete with high-quality image, touch screen and HD capabilities, and it's one of the most affordable devices of its kind on the market
NEWPORT BEACH, CA (PRWEB) September 18, 2012
Idolian Mobile, a leading manufacturer and distributor of tablet PC s and tablet accessories, today announced that the latest version of its extremely popular, highly sought after tablet PC, TurboTab C8+ is now available for purchase.
Idolian TurboTab C8+ features a 1.5 GHZ processor and supports HD videos at 1080p, and with responsive multi-touch capacitive touch screen, the TurboTab C8+ is easy to navigate and operate. The android tablet is robust and has features including streaming Netflix videos and allows for Skype video chatting, and at less than 0.7 lbs., TurboTab C8+ is easy to handle and transport. Additionally, the TurboTab C+ can be connected to a television with HDMI connection to play back video, and will be upgradable to Android 4.1 Jelly Bean OS by the end of 2012.
For California consumers, the launch of the TurboTab 8C+ will be the first of Idolian Mobile's many android tablet PC models available at more than 150 4G wireless retail stores.
"The latest TurboTab really is the perfect, all around mobile device, complete with high-quality image, touch screen and HD capabilities, and it's one of the most affordable devices of its kind on the market," said Jay Kim, founder and resident of Idolian Mobile. "Because of its capabilities and because it can rival other devices in its class for ease of use and number of features, I'm glad it is the first of our models that we'll place in the retail market, though, it will still be sold at wholesale prices."
The Idolian TurboTab 8C+ is currently priced at $139.99. Like each of Idolan Mobile's mobile PCs, the TurboTab 8C+ is perfect for game play, e-reading, viewing movies, and for professionals and for casual users alike.
Accessories, including cases, charger cables and screen protectors, are also offered though Idolian's website, Idolian.com, and free shipping all orders. In addition to retail locations throughout California, it is also available through Amazon, Sears.com and Idolian.com.
Idolian offers a full line of wholesale tablet PCs and accessories – including TurboTab 8C+ -- directly to consumers and businesses. Idolian's devices are used in schools, by government agencies and businesses. Idolian offers discounts to schools and businesses.
Each of Idolian's devices come standard with a one-year limited warranty serviced in the U.S. Idolian also offers extended warranties and protection plans for sale only on Idolian.com.
For more information about Idolian, visit http://www.idolian.com or email support@idolian.com.
About Idolian Mobile
Founded in 2010 and headquartered in Newport Beach, California, Idolian Mobile is a supplier of tablets and tablet accessories. Idolian.com is a division of Idolian Mobile Inc., a global wholesaler and retailer of tablet personal computers. Idolian provides discounted tablet PCs to customers worldwide.