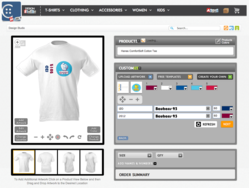 Chicago, IL (PRWEB) September 19, 2012
The votes are in...Izo elects to share dozens of brand new designs celebrating the upcoming presidential election! With tthe introduction of the share function and addition of Romney, Obama, and Election 2012 templates, the Design Studio has artwork for every voter. Whether the designer is of a true Blue persuasion or see things in Red, Customizo makes it easy to show the rest of the U.S. where they stand.
Democrats and Republicans alike can customize a free template, or create their own design. The new Create Your Own function in the Design Studio allows users to select a text template, then add any of the free, fully customizable templates saved in their account. They can also use a photo from Snapizo, Izo's mobile application, or one of the ready made graphics provided on Customizo.com.
To proudly proclaim their political persuasion, users may then share their design with others. The share function, new to the Design Studio and launching this October, provides designers with a URL for their creation - just in time for friends and family to cast a vote on their Election 2012 design. The link, unique to each user's saved design, allows recipients to access the Design Studio at the same point as the original creator, and order their own copy of the product.
About Customizo and Izo Brands: With Customizo, Groupizo and Snapizo, Izo is knitting the framework for the future of e-commerce with a multi-faceted set of innovative product customization and design tools, a unique group collaboration interface, and mobile media distribution applications. Izo's mission is to be the most customer-centric, creative, and innovative company in the custom apparel and promotional products industries.