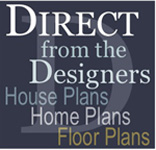 We're find that many consumers looking for a new home don't want to wait for a new home to be built or to look through existing inventory, when it's just as affordable to build and customize their dream home with stock house plans," said Tammy Crosby
Portland, Oregon (PRWEB) September 19, 2012
According to a recent article in the Wall Street Journal the demand for new homes is increasing, sales are on the rise and prices in many areas are inching higher. This means that homebuyers are finding less bargains, fewer incentives and a smaller inventory of newly constructed homes, which is one of the reasons that house plans sales are steadily increasing.
According to Direct from the Designers House Plans, a leading provider of online stock house plans, they have seen 10% growth in house plan sales over 2011, particularly among builders. The median square footage for best-selling house plans is 2,100 square feet. Top states for house plan sales in 2012 are Texas, Tennessee, North Carolina, Pennsylvania and Georgia.
"We're find that many consumers looking for a new home don't want to wait for a new home to be built or to look through existing inventory, when it's just as affordable to build and customize their dream home with stock house plans," said Tammy Crosby, Chief Operating Officer of the Direct from the Designers House Plans. "Consumers are much savvier and really look into building a home that fits their needs, budget and lifestyle."
A recent press release by the National Association of Home Builders (NAHB) states that builder confidence in new home construction continues to improve with a two-point gain on the NAHB/Wells Fargo Housing Market Index (HMI) bringing the index to 37, its highest level since the market crashed in 2007. For the last 25 years NAHB has been conducting this monthly survey to gauge builder's perception of the current single-family home building market.
"Many of our house plan purchasers originally looked at purchasing an existing home, but found that the cost to build a new home was surprisingly more affordable and attainable than it's ever been," Crosby said. "We offer over 6,000 house plans on DFDHouseplans.com in a wide variety of sizes and architectural styles, which can all be easily customized at a fraction of the cost of having an architect or designer create a custom home design."
Direct from the Designers also publishes a bi-monthly e-zine called Her Dream Home and weekly e-newsletter to reach homeowners and keep them up-to-date on the newest house plans and home building trends.
The latest issue of Her Dream Home magazine features fresh, innovative and affordable new house plans, as well as consumer favorites like the L'Attesa di Vita, a popular Craftsman cottage house plan. Articles like "The Top 10 Commandments of Home Design" and "Fall Decorating Ideas & Tips" offer insightful tips for designing a dream home.
Consumers and builders can stay current on the latest house plans and interior design ideas by signing up for Dream Green, a free e-newsletter.
About Direct from the Designers: Direct from the Designers features an innovative collection of best-selling online house plans, home plans and floor plans including an exclusive collection of ENERGY STAR® house plans direct from the leading designers and architects in the United States.
They also offer a comprehensive resource center called Green Living where consumers and builders can learn about the latest sustainable interior and exterior home building products from companies like Therma-Tru®, Fypon® and Lumber Liquidators® and get inspiring green home design ideas and tips.