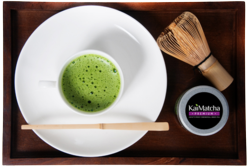 (PRWEB) September 18, 2012
The health benefits of matcha green tea have been a hot topic recently. As a substitute for morning coffee or afternoon soda, matcha tea provides drinkers with the energy boost they require plus a long list of added health benefits. While some lower quality matcha green tea has been made available to the western world, consumers are missing out on the true matcha taste and health benefits first experienced and perfected by the Japanese. Additionally, many of the advertised health benefits in currently available varieties of matcha tea have been reduced or eliminated entirely due to poor quality processing and added preservatives. This is where KaiMatcha aims to change the way consumers experience matcha. By sourcing the highest quality matcha green tea straight from Uji, Kyoto, Japan, KaiMatcha is making the highly guarded and limited supply of ceremonial-grade Japanese matcha available to all consumers.
Matcha green tea contains sources of some of the most health enhancing active ingredients including antioxidants and amino acids. Of these, some of the most noted elements are the 'catechins', which have become known as cancer-fighting agents and help to reduce the quantity of free radicals found within the body. Beyond this, matcha green tea aids in fat burning due to its ability to increase the rate at which the body burns calories. KaiMatcha's Premium tea is able to retain all of these amazing matcha green tea health benefits due to the way in which it is grown and processed. Unlike local matcha green teas, KaiMatcha Premium begins with the highest quality leaves, which are shade-grown. This impacts both the flavor and nutritional content as it maintains the levels of chlorophyll in the tea leaves. All plants are harvested by hand and processed using traditional stone grinding techniques perfected by the Japanese.
Consumers may be tempted to purchase a less expensive brand of matcha green tea powder, as it has become much more widely available throughout the United States. KaiMatcha warns that although the price may be alluring, customers are missing out on some of the key health benefits as well as a high quality taste. KaiMatcha Premium has undergone rigorous taste tests and has held up against some of the finest quality matcha green tea in the world. The most elite brands of tea are similar in taste but available only in Japan and do not ship internationally. Additionally, these varieties are substantially more expensive. KaiMatcha is able to bring their premium quality tea to the western world through a well-established agreement with a Japanese tea farm. KaiMatcha founder Jason Khehra has been working to bring this high quality tea overseas since first tasting it. "Matcha green tea has been Japan's secret superfood for over 800 years," says Khehra. "We are proud to finally bring it to the western world so everyone can enjoy its amazing health benefits."
ABOUT KAIMATCHA
With its recent launch in May 2012, KaiMatcha has made its mark in the tea industry with a high-quality, value priced product. Founder Jason Khehra is passionate about KaiMatcha after experiencing the difference of Japanese grown matcha green tea first-hand. After searching for a local provider of similar quality tea and finding none, he made it his mission to bring Japanese matcha green tea to the Western world at an affordable price point and has not looked back since. For information on the history of matcha green tea, detailed picture instructions on the best methods to prepare matcha tea and to place an order, visit KaiMatcha online at http://www.kaimatcha.com/.