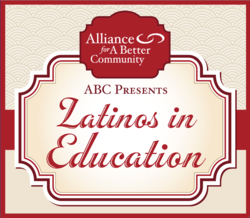 Through this speaker series we want to engage the community in issues of critical importance to their success -- Angelica Solis
Los Angeles, CA (PRWEB) September 18, 2012
The Alliance for a Better Community (ABC) will host a Latinos in Education Summit on Wednesday, September 19, 2012 from 8:00 a.m. to 10:30 a.m. at the Robert F. Kennedy Community Schools' Cocoanut Grove (701 South Catalina Street, Los Angeles, CA 90005) to discuss how the new Common Core Standards for K-12 education impact English Learners. Parking is available along the street. Childcare will be provided for parents.
More than 400 parents, students, local residents and community leaders are expected to attend the event, which is the first of a series aimed at informing the community about key education issues that impact students and their families, and bridging communication between the community and local and state elected officials. Participating panelists include: Senator Alex Padilla, Assembly Member Ricardo Lara, LAUSD Board President Mónica García, and LAUSD Board Member Nury Martínez. Gabriela Teissier, co-host of "News 34: First Edition" for Univision 34 KMEX-TV, will moderate the panel and ABC Executive Director Angelica Solis will give the welcome address.
During the event, panelists will talk about the changes taking place in California regarding what and how students will learn. They will also discuss what parents and communities can do to help children access and succeed in high-quality schools, colleges and careers. Topics to be discussed include: early learning, English Language Learners, college and career readiness, and access to and completion of higher education.
"Through this speaker series we want to engage the community in issues of critical importance to their success," said ABC Executive Director Angelica Solis. "We know that a well-informed community will advocate and vote on issues that will improve education outcomes for their children, and their future. ABC is committed to working with parents and their children in this area, and this series is one of several that we hope to bring to local residents," added Solis.
The event was organized with support from other non-profit organizations and ABC partners including: California Association for Bilingual Education (CABE), Californians Together (Cal Tog), Campaign for College Opportunity, Families In Schools (FIS), JPMorgan Chase, Mexican American Legal Defense and Education Fund (MALDEF), National Association of Latino Elected Officials (NALEO), National Council of La Raza (NCLR), Hispanas Organized for Political Equality (HOPE), and Parent Organizing Network (PON).
For more information about ABC's Latinos in Education Speaker Series, please contact Leslie Valmonte at the Alliance for a Better Community (ABC) at (213) 250-0052 or via e-mail at leslie(at)afabc(dot)org. To interview an ABC spokesperson, please contact Evelyn Aleman by calling 818.943.2481 or via e-mail at evelyn(at)mipr(dot)net.
The Alliance for a Better Community (ABC) promotes equity for Latinos in education, health, economic development and civic engagement for the betterment of the Los Angeles region.