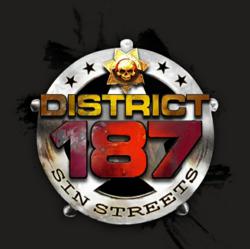 El Segundo, Calif. (PRWEB) September 18, 2012
CJ Games Global (http://www.netmarble.com), today announced the start of the closed beta testing for free-to-play first-person shooter (FPS) District 187: Sin Streets, developed by CJ GameLab.
Select active Netmarble players have been granted access into the closed beta and can play starting today. Players align with the righteous (S.W.A.T.) or side with the nefarious (Gangster) in the urban jungles of District 187.
"The barriers and barricades have been broken down and the streets of District 187 are up for grabs," said Jon-Enée Merriex, Producer, CJ Games Global. "We will be working feverishly to fine tune the game in order to launch this competitively intense first person shooter."
Players can still apply to enter the limited closed beta testing by signing up at http://www.district187.com. Entrants will be chosen based on beta server testing needs and introduced in timed waves throughout the closed beta. Players can also visit a number of media websites to acquire limited closed beta keys, including: IGN, MMOSite, FPSGuru, FPSGeneral, MMO Bomb and many more!
Key Closed Beta Features for District 187: Sin Streets
S.W.A.T. VS. Gangster!
Players can join friends and experience the most fully loaded, story-driven, free-to-play shooter on the market! With great features like a gun modification system, three game modes, a full ranking system (both personal and clan), five maps, a clan system and more!
Fight For Control!
Every week "Streets" throughout District 187 are claimable by player clans. Players win in-game prizes by being a part of the best performing clan on each map and position themselves to Rule the Streets in District 187.
Play To Win!
Every month physical and in-game prizes are up for grabs in varying game events! Competitions include tournaments, social media video contests, leveling and more. It's never been easier to score free gear in and out of the District 187 streets.
AND MUCH MORE TO COME!
About District 187: Sin Streets
Set at the end of the 21st century - after the collapse of the world economy - District 187: Sin Streets features cut-throat, urbanized warfare in a player vs. player environment. Game play matches vigilante SWAT agents against ruthless gang members.
District 187: Sin Streets screenshots and videos can be viewed here:
http://www.district187.com
To receive up-to-date information on District 187: Sin Streets, follow:
Facebook: 'Like' and Comment at https://www.facebook.com/CJDistrict187
Forums: Join the community http://forum.netmarble.com/index.asp?fid=48
About CJ Games Global
CJ Games Global is the U.S. subsidiary of CJ E&M Game Division established in 2012. Supported by its development studios in Korea, CJ Games Global aims to publish online games on PC and mobile devices in North America, South America and Europe. The company services its players through its game portal http://www.netmarble.com.
About CJ GameLab
CJ GameLab is a development studio of CJ E&M Game Division, headquartered in Seoul, South Korea. CJ GameLab is a free-to-play online game developer, with current titles including first-person-shooters (FPS) District 187 and Hounds and its strategic web browser title, Kingdoms.
###