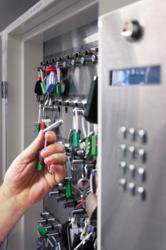 "Traka is excited to further efforts in growing our U.S. presence."
Orlando, Florida (PRWEB) September 20, 2012
Traka, a developer of intelligent access technology and electronic key management solutions, has increased their U.S. efforts in introducing its innovative access management systems to American companies after recent acquisition by ASSA ABLOY, the world's leading lock group. ASSA ABLOY also owns other well-known brands such as Medico and HID.
Originally developed in the United Kingdom, Traka is the leading worldwide specialist in key and equipment management solutions. Systems are in use 24/7 in many sophisticated environments to secure, audit and manage access to keys and other valuable assets – such as buildings, vehicles, tools or equipment.
Traka is generating average growth rates of 20% annually, increasing its market share worldwide, making the accessibility of Traka's benefits to the American market the natural next step in development strategy.
To facilitate this promotional push, Traka has launched a U.S.-specific website — http://www.trakausa.com — to match the needs of the American market, ensuring a positive experience for the decision makers through customized messaging and clear industry-specific applications.
"Traka is excited to further efforts in growing our U.S. presence through the tailored website," says Jackie Daniels, Vice President of Sales and Marketing of Traka USA. "By showcasing our versatile operational applications, the site makes it easy for companies to find trusted solutions that positively affect their bottom line."
With core competencies ranging in the security and access management of educational institutions to warehouse facilities, Traka has been delivering methods to lower operating costs, minimize loss and damage to equipment and improve overall margins since 1995.
About Traka USA
Originally the manufacturer of one of the world's first electronic key management systems in 1990, Traka is now considered as a world leader in innovative technology for sophisticated yet practical intelligent access control. Traka utilizes key management solutions and keyless electronic lockers to manage and control access to important assets.
Traka USA is based in Longwood, Florida.
To learn more about Traka and its products in the U.S. market, please visit http://www.trakausa.com.