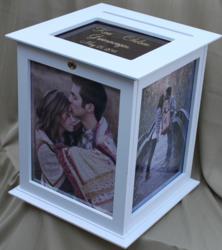 "Nothing makes a business owner happier than to know they are making people happy!"
Brighton, MI (PRWEB) September 20, 2012
Starting a business can be a scary thing. The Perfect Card Box® is celebrating the shipping of our 7,000th Wedding Card Box. The company has clearly found a product the wedding market wants, and what brides want…brides get.
The Perfect Card Box® started out in May 2007 with nothing more than an idea and a homemade card box that was used at a family wedding. The same card box was then used at a graduation party a couple weeks later and from there this Wedding Card Box was borrowed by family and friends for a summer at weddings, graduations and other celebrations. "I literally had an "Ah-ha" moment when I saw the way people responded to the card box, and decided at that point to mass produce the box and sell it to the public." Said Kelly Marie, owner of Kelly Marie Collections, LLC and the designer/inventor of The Perfect Card Box®
The company was launched and has seen such success for a couple reasons. The first is the fact that wedding guests bringing cards with money to a wedding instead of a wrapped wedding gift has been a growing trend and with that a need for a container to hold these cards became apparent. Wedding statistics tell us that today about 80% of wedding guests bring a card with money instead of a wrapped gift. In addition, there has been a tremendous rise in creative photography and extensive engagement photo shoots have become common place, everybody has a friend with a camera and photos can be developed in an hour. Both of these factors have greatly contributed to the success of this product in the wedding industry.
The other added product benefit has been the ability to use it in the home after the special event making it a great value for the customer. Because of the timeless design of the card box, it can be used as a home décor item and put on display in the home. The box beautifully displays the wedding day photos and holds all the special keepsakes too.
The Perfect Card Box® says Thank You to our first 7,000 customers and looks forward to serving the next 7,000.
Kelly Marie Collections and The Perfect Card Box® offering a patented wedding card box to the wedding industry. Their products can be found at http://www.theperfectcardbox.com