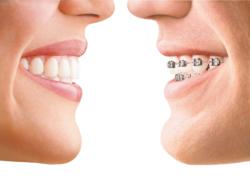 Nobody knew I was wearing braces. I didn't feel self conscious at all. The results are just brilliant!
(PRWEB UK) 18 September 2012
Invisalign is the brace of choice for many patients.
It is discreet, hygienic and requires fewer visits to the dentist to get a beautifully straight smile. Many people who want a straight smile believe train track braces are the only answer. This brace system provides an incredible alternative which lets busy people get on with their work and lives with minimal impact.
Invisalign is particularly favoured by busy professionals who cannot afford to have meetings with clients with tran track braces or have to return every few weeks.
Dr Khaira's commitment to Invisalign has been recognised by the award of Platinum Elite status. Dr Khaira commented "I'm absolutely thrilled! We are able to transform the lives and smiles of patients. Some of them have very crooked teeth and have been told they are not suitable for the system. By using Invisalign so much, I'm confident in treating even complex cases and help people fall in love with their smile again."
Dr Khaira plans to continue this commitment and create more beautiful smiles
To find out more, contact
Red Sky Dental Spa
10 Albion Place
Doncaster
South Yorkshire
DN1 2EG
01302 325678