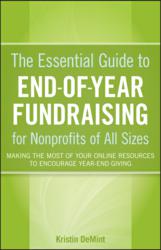 The Essential Guide to End-of-Year Fundraising is a quick and easy read to engage your base of support in jump-starting your year-end fundraising
Washington, DC (PRWEB) September 21, 2012
Salsa Labs, Inc. (Salsa), creator of the online, integrated platform for building a base of support announced today the release of a new book, The Essential Guide to End-of-Year Fundraising, sponsored by Salsa and published by Wiley, to be available e-book form today and print form beginning September 20 at their 2012 Community Conference: "There's Strength in the Network" that brings together top organizers from around the world.
"The Essential Guide to End-of-Year Fundraising is a quick and easy read to engage your base of support in jump-starting your year-end fundraising," said Chris Lundberg, co-founder and CEO of Salsa. "The book uses every day language and a step-by-step plan to help any organizer, political candidate, and nonprofit maximize giving for this year, and to help keep your supporters involved and excited for next year and beyond."
The Essential Guide to End-of-Year Fundraising offers nonprofits of all sizes advice and expertise on maximizing online resources to encourage year-end giving. As organizers look to capitalize on the giving spirit, and supporters seek to make the most of tax deductions, end-of-year giving is a crucial time for a fundraising campaign. The Essential Guide to End-of-Year Fundraising explores the concept of giving addiction, the best content to use for making a fundraising ask, and shares key strategies for integrating messages across multiple channels.
"We've worked with author Kristen DeMint to provide research from our vast experience with clients and our days as a nonprofit to create a book that will help nonprofits institute year-end campaigns that result in more gifts, bigger gifts, and more engaged supporters," said Lundberg.
The book is the latest addition in a series of tools provided by Salsa focused on end-of-year fundraising and how it fits into building a year-round base of support including a web portal, infographic, educational webinar and more.
About Salsa Labs
Salsa Labs (Salsa) helps non-profits and political campaigns to build, organize and engage a base of support, more efficiently and effectively. In one easy-to-use, integrated and flexible web-based system, groups of all sizes can manage their supporters and chapters, communicate through email and social media, fundraise, advocate, host events, and measure results. With all that as well as our top-notch training, support and strong online community, Salsa provides you the best value for your investment - letting you focus more resources on your mission. Salsa currently supports more than 2,000 organizations' relationships with more than 75 million donors, members, activists and fans all around the world. We can do more things together than we can apart. For media information, contact Tim Rusch with FitzGibbon Media at (917) 399-0236. Visit Salsa online at http://www.SalsaLabs.com.