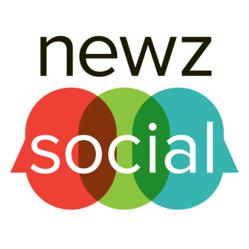 "Consumers no longer want irrelevant news pushed to them," said Anand Jagannathan, CEO of Newzstand. "With NewzSocial, users share and curate topics to discover news that matches the changing interests of their social group."
Sunnyvale, California (PRWEB) September 19, 2012
Newzstand Corp. announces that its NewzSocial App for iPad is now available from the Apple App Store. With NewzSocial, users harness the power of their social network to discover and share the experience of reading news. This app allows you to create your own news channels on any topic, share channels with your friends and curate articles that are a 'must read' within a channel.
"The paradigm of finding your news is rapidly evolving," said Anand Jagannathan, founder and CEO of Newzstand. "Instead of thinking of each individual as just a consumer to whom news is to be pushed, we see an opportunity for people to share their expertise and become an active participant in news ecosystems that mirror their social groups and changing interests. You might be interested in following news on the US elections, fall fashion, new technology and latest movies. With NewzSocial and the diverse expertise in your social groups, you can now share and curate customized channels that make it more interesting, be it the 'presidential debates', 'gluten free trends', 'social media privacy' or the 'twilight saga'."
Early users of NewzSocial have commented on the power of the app to help them discover news on a wide range of topics. "I was very impressed with NewzSocial's ability to help me discover articles from specialized scientific sources that I would not have otherwise seen as easily" said Dr. Pejman Naraghi, a molecular biologist at Lawrence Livermore Labs and beta user of the app. "In addition, I enjoyed being able to keep track of interesting articles, even on subject areas I previously knew little about, that my friends were finding and sharing in NewzSocial."
NewzSocial is a social news reader that respects your privacy. You are automatically connected with friends on your social network and you can selectively share channels and choose friends to curate a channel.
The NewzSocial App is available for free at http://itunes.apple.com/us/app/id546527255 in the Apple App Store, or by using the App Store link on the NewzSocial website, http://www.newzsocial.com.
Screenshots are available at http://www.newzsocial.com/press-resources.
About Newzstand Corporation:
Newzstand is a Silicon Valley (Sunnyvale, CA) based company with a seasoned team of online marketing, e-commerce and content curation experts. Anand Jagannathan, the CEO/Founder is a serial entrepreneur with two successful IPO companies (Banyan Systems and Responsys) and an acquisition for iStorez.