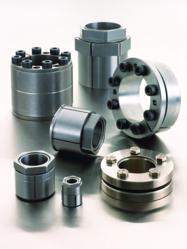 "It's the biggest change we have made in years and comes about from customer and user feedback."
Manheim, PA (PRWEB) September 19, 2012
Fenner Drives has made improvements and additions to both the Trantorque and B-LOC Keyless Locking Devices offerings, providing more of the products customers need with shorter lead times. Trantorque Keyless Bushings are now available off the shelf in Steel, and with minimum lead times for electroless nickel, thin dense chrome, and stainless steel versions. B-LOC Keyless Locking Devices added three new series, encompassing over 300 individual products, to the existing offering. Frank Fatato, Director of Product Innovation, states, "It's the biggest change we have made in years and comes about from customer and user feedback. We are able to meet specific and demanding customer needs with the new B-LOC additions. We've also simplified and expanded our Trantorque Keyless Bushings offering to give customers more options than ever, but in an easier to use format."
By implementing smart design changes to Trantorque Keyless Bushings in stainless steel and electroless nickel, Fenner Drives has enhanced product performance without changing the unit dimensions. Product Development Engineer, Eric Mosser, stated, "The most substantial improvements result in increased torque transmission for a given installation torque." Customers can be assured that Trantorque Keyless Bushings exceed their most demanding applications.
The added B-LOC Keyless Locking Devices series include B117 Keyless Bushings, Half and Split Shrink Discs, and SD40 Shrink Discs. The B117 is a newly released series of keyless bushings that have a higher bending moment capacity, a key benefit to engineered mining pulley manufacturers. The Half and Split Shrink Discs were previously only available as specials requiring long lead times. The most popular sizes are now available from stock, with remaining catalog sizes available with greatly reduced lead times. SD40 series is a two piece single taper shrink disc, a perfect complement to the three piece SD10, SD20 and SD30 series units Fenner Drives offers. Advantages of the SD40 series include eliminating the need for a torque wrench during installation and a high transmissible torque. Another advantage is that visual alignment of the two flanges ensures concentricity - reducing the need for dynamic balancing.
All of the improvements and changes to the product lines are highlighted within the recently published Trantorque & B-LOC Keyless Locking Devices catalog. Fenner Drives is very excited about the recent enhancements, and being able to not only meet, but exceed, the ever changing needs of their customers. "Fenner Drives already had the most expansive Keyless Locking Device offering in the industry and this update further solidifies that position," said Fatato.
About Fenner Drives
Fenner Drives, headquartered in Manheim, Pennsylvania, is a worldwide leader in the design and manufacture of added value, problem solving products for power transmission, motion transfer and conveying applications. With over 200 employees and ISO 9001 certified production facilities in Manheim, Pennsylvania and Wilmington, North Carolina, we have a wealth of manufacturing, technical and commercial expertise. Fenner Drives is a division of Fenner PLC. With over 4,500 employees worldwide, Fenner PLC is a leading global provider of local, engineered solutions for performance critical applications.