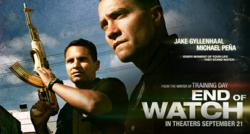 "As we collaborated [with David Ayers] throughout the weeks, the sequence took on new and interesting transitions and effects as it came along.." Beth Dewey [about the title process]
Hollywood, CA (PRWEB) September 19, 2012
Only two more days until the anticipation is over for one of the best films to come out this fall, End of Watch is going to ignite a new into the audience about the LAPD. Everyone has a fascination with the police; whether it is fear, respect or blind curiosity, everyone wants to know more about who protects and serves. End of Watch is a riveting, high paced, film that will take the audience behind the scenes with two police officers in the Newton Division of LAPD, Jake Gyllenhaal and Michael Peña, who risk their lives every day through the meanest streets of South Central. With the real time filming and behind the scenes feel, the audience is taken deep into the heart of the chase, packed with all the adrenaline. End of Watch hits theaters this Friday, September 21st, and is guaranteed to keep the audience at the edge of their seat!
SonicPool Post Production completes work on End of Watch.
SonicPool's Beth Dewey and Bruce Schluter set the scene by creating the main and end titles for the film, along with the dashcam information for all the interior vehicle shots. Beth Dewey discusses the process that was taken for this to come from just an idea into a reality; "We met with David Ayer first to discuss what feeling he would like to convey, his likes and dislikes, familiarized ourselves with the film, and came back to him with designs. We worked for two months fine tuning the title animations with input from David. For the main titles, we made windows with the type, and inserted moving street level POV shots of the city and skyline to create an interesting fast paced open, on par with the explosive opening scene of the film."
The writer and director, David Ayer, has an attention to detail and authenticity that is unparalleled. Each digit on the Dashcam shots was hand-placed and data counters were done by hand frame by frame to match the actual police vehicle dashcam information. Using a counter was not an option with the animation tools, as each window of information was moving at a different speed. The L S B C information (lights) (sirens) (brakes) (crash) is applied at precise frames. In a high-speed chase when brakes are tapped intermittently it was precisely applied at exact moments.
The Dashcams were a several step process, once Beth and Bruce finished the animations, they were handed over to SonicPool Compositor and Visual Effect Artist, Rick Skrip, to composite over the 2k footage. The goal was to give it the appearance of a mass produced, single-CCD camera typically found on police cars. Rick explains that he "took high-resolution footage from production, composited the graphic overlays on top of it, and then basically started to tear it apart by introducing digital anomalies; things like RGB separation, mosaic pixelations, image and chroma lags, and digital hits" and then was converted back up to 2K. The result is a realistic looking dashcam that looks different than the rest of the original footage.
For the end titles, the challenge was to design a sequence that encapsulated the tone of the film. Beth and Bruce discuss the process; "We came up with a design that showed the vastness of the area patrolled by the LAPD, while also giving a slight sense of loneliness, as they keep us safe in the night while the city sleeps. We took some actual police division sectioning maps, and cross dissolved with constantly moving aerial live footage of the actual streets on the maps covering the Newton Division where our hero's stand watch, and surrounding areas. David gave us feedback and direction as we collaborated throughout the weeks, and the sequence took on new and interesting transitions and effects as it came along, with the final sequence being made to look like a model of Los Angeles as we pulled out further and further at the end. This model effect showed the quiet stillness of the city, with an undertone of the darkness that exists in the still."
SonicPool is proud to have contributed to this groundbreaking masterpiece and as Beth said, "We hope everyone loves End of Watch as much as we do."