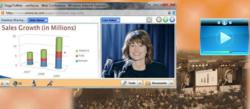 The combination of AV One's high quality services and omNovia's advanced webcasting technology offers a unique solution that enables companies to create high impact events by significantly increasing their audience
Houston, TX (PRWEB) September 19, 2012
omNovia Technologies, a global leader in web and video conferencing technology, and AV One, a leader in high quality audio visual services, announced today their partnership to provide unique turn-key live event webcasting services. The new partnership takes user experience to new heights by not only streaming events in HD quality, but also creating an easy-to-use, interactive and secure web based environment.
"The combination of AV One's high quality services and omNovia's advanced webcasting technology offers a unique solution that enables companies to create high impact events by significantly increasing their audience" said Tom Karr, CEO of AV One.
Live event webcasting enables companies to take events beyond the ballroom and into the PC or mobile devices of national and global audiences. Event webcasting is ideal for corporate communication, employee training, product launches, investor relationship, political speeches and more.
Patrick Ricci, Director of Sales North America for omNovia Technologies based in Houston said "In this rapidly growing market, companies need to maximize their return on events (ROE). The successful relationship with AV One is a perfect example of how omNovia partners with AV companies allowing them to provide advanced webcasting solutions to their clients."
Live event webcasting, also referred to as simulcasting, is different from webinars in that presenters are on a live stage or in front of production cameras as opposed to in front of their computers. The omNovia solution takes the standard audio and video feed from AV One's equipment and broadcasts it live to remote attendees. In addition to HD video quality in a branded and customizable web or mobile based interface, attendees can watch slide shows and interact with the live audience via chat, polls and Twitter. The omNovia solution also incorporates a comprehensive event management and credit card processing system. Beyond technology, omNovia and AV One specialists will work with the clients to design, setup and deliver events using industry best practices.
Another noteworthy feature is the Recast technology, which records live events and is capable of replaying them while preserving the interactivity of the original presentation. Replaying a Recast will, for instance, enable viewers to take polls and experience the event with the same impact as the live broadcast.
For more information, visit http://www.omnovia.com/webcasting.
About omNovia
omNovia Technologies is a leading global provider of online meetings, high-quality webinars, engaging online trainings and live event webcasting solutions for small business meetings and large-scale enterprise conferences. omNovia's high-quality web conferencing platform offers the best online meeting experience with a unique capacity of 5,000 simultaneous participants in an interactive web-based environment. omNovia's live event webcasting solution, StageToWeb, provides HD live-video streaming, integrated voice and interactive tools. omNovia's unique Recast feature enables replays of recorded events in a fully interactive environment. For more information please visit http://www.omnovia.com.
About AV One
With locations in Schiller Park, Illinois, Atlanta, Georgia, Orlando, Florida, and Las Vegas, Nevada, AV One provides audiovisual equipment rentals and services nationally for conventions, meetings, exhibits, Hotels, meeting facilities and businesses. Audio/video recording, webcasting and wide-screen video capabilities are available. Meeting room consultants, hotel audiovisual department and business center management offered. Please contact us for a proposal specific to your needs. For more information please visit http://www.audiovisualone.com.