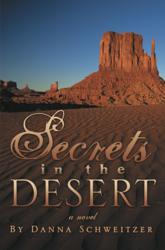 This is an adventure story about a journey, a spiritual quest wrapped in romance
Okarche, Oklahoma (PRWEB) September 20, 2012
The search for a personal spiritual belief system is a common thread that connects people throughout the world. Spiritual Director Danna Schweitzer is a strong advocate of the idea that one should never be done searching for her own spiritual center. To inspire others to consider this for themselves, Schweitzer writes "Secrets in the Desert," a fictional story about the age-old human search for God told in a fresh way.
"This is an adventure story about a journey, a spiritual quest wrapped in romance," Schweitzer says. "This is hopefully a fun way to deal with a heavy subject: family discord, holy longing, forgiveness."
"Secrets in the Desert" follows Dr. Fred Hanesworthy, a professor of anthropology in the Midwest who leads a simple life, and his colleague Dr. Devon Livingston, who has just returned from a yearlong archeologist trip in the desert. As the story unfolds and the two main characters learn about themselves and their own spiritual paths, this compelling tale inspires those who are continuing their search for God, or just beginning.
Similar to encouraging others to continue to search for spiritual answers, Schweitzer also believes in being a life-long learner, having recently gone back to school to earn her master's degree in pastoral ministry.
"I never lost my dream of higher education and as the children began to leave the nest I was able to pursue that challenge," Schweitzer says. "You should never stop learning."
"Secrets in the Desert"
By Danna Schweitzer
Hardcover: $24.99
Book ID: 978-1469194424
Available at http://www.amazon.com, http://www.barnesandnoble.com and bookstore.xlibris.com.
About the author
Danna Schweitzer is a spiritual director for Immaculate Heart of Mary Catholic Church in Calumet, Okla. She earned a bachelor's degree in pastoral ministry from Newman University in Wichita, Kans., in 2006 and a master's degree in pastoral ministry from Aquinas Institute of Theology, Saint Louis University in 2010. She is now a wife, mother, grandmother of nine and now a great grandmother, as well as a life-long learner. A sequel to the novel is being written and she is also preparing a biography for publication.
# # #