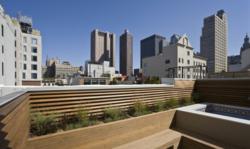 New York, NY (PRWEB) September 20, 2012
The penthouse apartment that tops the historic Tribeca building at 55 Warren Street in New York City, was featured in the recently published "Masterpieces: Roof Architecture + Design," by Manuela Roth. The lofts at that address, developed by 334 Canal Realty Corp and designed by Sara Arnold of Oaklander, Coogan & Vitto Architects, PC (OCV) with interiors by Leopoldi Rossati and landscape by Kate Fitzgerald, were transformed from two commercial buildings spanning Warren and Murray Streets, into an address offering luxurious, single-floor, loft-style apartments, each with a different layout.
Designed as the building's "new crown," the duplex penthouse apartment was an addition to the existing buildings. The penthouse features a rooftop garden and exercise spa, an opening glass wall that seemlessly connects the living area with the rooftop landscape, custom designed interior floating stairs, and advanced home control systems.
With its high ceilings, glass flooring, large windows and skylights, a seamless transition from the indoor living spaces to the open sky is created. Once outside, the north and south-facing terraces provide a calm sanctuary in the sky amid the bustling corridors of downtown Manhattan.
The penthouse of 55 Warren Street can be further explored, along with over 60 other rooftop projects from around the world, in Ms. Roth's book.
About Braun Publishing AG
Braun Publishing AG focuses on the publishing of books on architecture, design, and urban development. With 30-40 books published annually and distributed internationally, Braun Publishing AG's focus on books with attractive conceptual design and clear design concepts has enabled them to cater to an audience with an international focus.
About OCV Architects
Oaklander, Coogan & Vitto Architects, P.C. is a versatile, award-winning architectural firm serving the New York Metropolitan area for over 30 years. OCV's body of work ranges from affordable and special needs housing to high-end private residences, from gut rehabs and historic preservation to innovative new construction. Having produced over 1,000 units of residential housing, the firm regularly partners with urban housing authorities and development groups to create sustainable, attractive residences within restrictive budgets. As a member of the U.S. Green Building Council, OCV strives to bring to each design respect for a project's site, setting, history and culture, while making every effort to build responsibly and sustainably. For more on OCV please visit http://www.ocvarch.com.
For further information on this release, 55 Warren Street, or similar projects, please contact:
Mireille Moga
Oaklander, Coogan & Vitto Architects, PC
203 Lafayette Street, 5th Floor
New York, NY 10012
212-675-6470 x222
mogam(at)ocvarch(dot)com