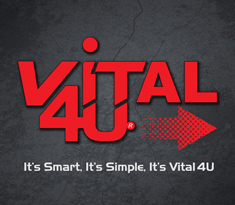 Behold The Power
Rancho Mirage, CA (PRWEB) September 20, 2012
Precise Nutrition Intl., manufacturers of the Vital 4U® product line are set to attend the NACS show of 2012. The show runs from October 8-10 in Las Vegas, Nevada at the Las Vegas Convention Center.
Precise Nutrition (PNI) will be showcasing their flagship products from the Vital 4U® line of products, Liquid Energy®, Screamin Energy® Max Hit and their fastest growing product the Vital 4U® Vitamin Best Pack. All three items are currently retailed at 7-Eleven, Inc. and Circle-K along with many other convenience retailers carrying one or more of these products.
Look for the Vital 4U® products at booth number 4568. Available at the Vital 4U® booth will be product samples, product literature, a brand new release of the Vital 4U® image film and friendly sales people ready to address any questions about their products and their history of success along with their potential of future success in new retail chains. Also included at the NACS Show will be Vital 4U®'s extended line of sexual enhancement products entitled, VitalErotic®. VitalErotic® is available in two forms, a caplet and a fast acting liquid shot for the use of men and women. VitalErotic® is currently retailed at Rite Aid, Walgreens and K-Mart stores.
The NACS Show is the #1 buying show in the country according to Exhibit Surveys, Inc. and provides the most comprehensive representation of products and services for the convenience store industry. Retailers and suppliers alike attend the NACS Show to discover proven ideas and strategies that enable them to increase sales, attract new customers, build their brand, and improve their bottom line.
Buyers for retail chains and/or distribution companies wanting to capture and capitalize on a large audience seeking a trustworthy and affordable alternative to the standard energy shot category need to look no further. The Vital 4U® line of products has built a loyal customer base that is ready to expand and build upon it's proven success over the last 20 years. Stop by NACS booth number 4568 and see how Vital 4U® can improve your revenue immediately. For more information about the Vital 4U product line visit their website at http://www.vital4u.com